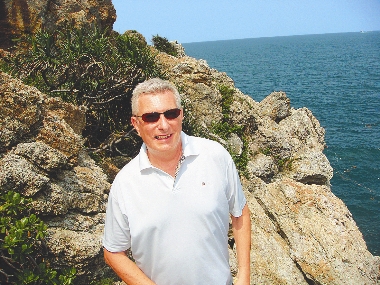 Jane Lai
A LOT of critics claim that Shenzhen is a boomtown without cultural roots, but a number of expatriates suggest that cultural tourism should be one of the city's pillar industries and they are calling on people to protect the disappearing cultural features.
Italian Marco Loglio, 55, CEO of the Hong Kong-based Marco Loglio Consultancy Agency and a 10-year Shenzhen resident, is one.
During his time in Shenzhen, Loglio has been to Dapeng Peninsula, Dongchong and Xichong many times, hiking and protecting the areas. He has also written articles and participated in TV programs calling on people to protect the areas, and organizing cultural hiking activities for expatriates.
His book "Shenzhen Hikes, Volume 1: Dapeng Peninsula" was published last month and he won the Shenzhen Asian Culture Society's Cultural Award in January.
Hiking and culture
Born in Bergamo in Italy in 1955, Loglio developed a love of hiking when he was a boy and hiked every day to places where he could enjoy old cultural sites and traditions.
In 2000, he came to settle in Shenzhen to offer professional advice and service on electric cars to Chinese companies, and has since been commuting between Hong Kong and Shenzhen.
Loglio started hiking here shortly after he arrived. He soon realized that near the busy city center there were still untouched areas where one could visit abandoned villages, forests, waterfalls and lakes, enjoy spectacular scenery and even see rare animals.
"I found very nice areas for hiking in places like Dapeng Peninsula and became very interested in local culture. There is a lot of art and culture there. I went there almost every day and I knew every stone and cave in those places," he said.
Unfortunately, as time went on, several cultural sites were torn down and gave way to skyscrapers or factories and that caused Loglio a lot of worry.
"Cultural sites like old architecture, villages and sculpture should be preserved like we do in Italy. If they are destroyed, they can never go back to what they were. We should stop destroying them and call on the government and people to protect them."
Inspired by his passion for culture, Loglio participated in writing a book entitle "Finding Roots in Shenzhen" in 2006 to arouse more interest in Shenzhen's old culture. Loglio is a writer and a member of the Italian writers and editors association.
In the same year, he assisted Shenzhen TV in producing a program called "Shenzhen Memories" about the old villages in Dapeng Peninsula, in which he introduced the civilization and culture of the ancient and abandoned Hakka villages.
"The friendly Hakka people have their unique culture, architecture and traditions, which are as precious as ancient Italian cities. I'm sure these sites, rather than skyscrapers, can attract people from all over the world."
Interesting experience
After his successful TV experience, Loglio continued his research into Dapeng Peninsula, which he regards as a "real jewel."
In his "Shenzhen Hikes," he introduces 12 of the most scenic hikes in Dapeng Peninsula, less than 30 minutes from the city center, and focuses on the history that can be seen in old temples, military structures, antique buildings and villages.
Loglio went alone to Dapeng Peninsula almost every day after work for a long time and made a "friend."
There are a lot of wild animals in Dapeng Peninsula, such as pigs, dogs and snakes, but they don't worry travelers unless they are disturbed, Loglio says.
During his early visits to the peninsula, he encountered a wild dog. He fed it bread and tried to send a friendly signal.
After a few days, the dog was waiting for him when he arrived and joined him hiking.
"I was really surprised at how it could find me each time because I took different hiking routes."
Protecting culture
Loglio has traveled to other cities in Guangdong Province and other areas to experience the local culture. Gradually, a lot of expatriates called to ask his advice on where to go hiking.
He then started to organize hikes for expatriates to find the cultural roots of Shenzhen. He writes articles for the Shenzhen Asian Culture Society providing travel guidance for expatriates.
He favors natural scenery and sites over man-made attractions and does not consider the 3.5 billion yuan (US$523 million) OCT East resort in Yantian District attractive.
In his opinion, companies like the OCT Group should invest more in protecting the old architecture and sites rather than copying foreign architecture.
The municipal government should not simply focus on the annual GDP growth rate of 10 or 20 percent, it should also consider sustainable development, he says. Only then can the quality of life be enhanced.
"I hope beautiful places can be seen not only by us, but also future generations."