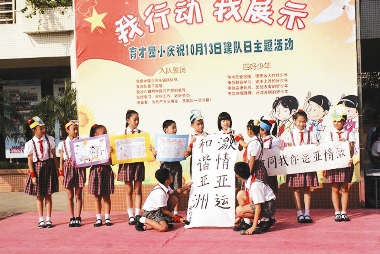 李纾煜 育才四小五(3)班
    October 13 was the 61st anniversary of the founding of the Young Pioneers of China. Our school held a solemn flag-hoisting ceremony to celebrate this special day.
    On October 13, 1949, the Young Pioneers of China was founded under the leadership of the Communist Party of China.
    I am so proud to be a member of the Young Pioneers. "Be prepared all the times" is not only our oath; we shall put it into action.
    At the ceremony, all the students stood solemnly when the national anthem was played. I was so excited and was determined to study well and make progress every day. I made up my mind to be a person with ideals, virtue, literacy and discipline.
    What a memorable day! Today we are Young Pioneers and tomorrow we will be the pillars of our motherland.