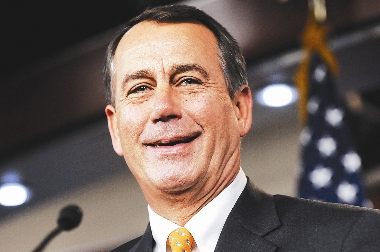 Republican John Boehner, along with several House candidates from his party, accomplished one of GOP's main goals: displace House Speaker Nancy Pelosi. Pelosi will turn the speaker's gavel over to Boehner when Congress reconvenes.    
    JOHN BOEHNER likes to say he never gets too excited and he never gets too down.
    If ever there was a time to make an exception, Tuesday night was it: With the Republican poised to take over the House, Boehner is set to become the chamber's suavely dressed, Camel-smoking, golf-loving, bronze-skinned speaker.
    His voice choked with emotion, Boehner savored the moment only briefly at a victory rally Tuesday night, then told his party it was time to get to work.
    It was a remarkable turnaround from January 2007, when it fell to Boehner, then the new House Republican leader, to hand the speaker's gavel — and all of the authority that it symbolizes — to Democrat Nancy Pelosi.
    And it was a remarkable turnaround from 1998, when Boehner was dumped from his junior leadership post in the House after GOP losses in that year's elections.
    "It was awful, but I was never going to let the bastards see me sweat," Boehner said later of his ouster. "I just smiled and went to work."
    It is also the culmination of a remarkable journey from Reading, Ohio, where Boehner grew up as one of 12 children of a working-class family.
    Boehner likes to tell stories about mopping the floors in his father's bar at age 10, of the skills required to deal with the characters who walked in the door of Andy's Cafe, of toughing it out in night school while turning around a failing small business.
    "I've spent my whole life chasing the American dream," he said Tuesday night as he told the story once again.
    Boehner's life is writ large with turning points when he found opportunity in misfortune — his own, and that of others.
    When his partner at Nucite Sales, a marketing firm for plastics and other small manufacturers, died while Boehner was still working his way through night school, Boehner took charge of the struggling enterprise and turned it into a moneymaker that eventually earned him millions.
    When an Ohio congressman got caught in a sex scandal, then-state Rep. Boehner snatched away his seat in the U.S. House.
    When Boehner finally got — and then lost — a GOP leadership position in the House, he didn't sulk. He hunkered down and proved himself an effective committee chairman, pivotal to passage of President George W. Bush's education bill, No Child Left Behind.
    Eight years later, when Majority Leader Tom DeLay was indicted on charges of political money laundering, Boehner staged a comeback.
    "I feel like the dog who caught the car," said Boehner, flashing a grin.
    Now, an unfortunate election year for Barack Obama and the Democrats looks to be Boehner's ticket to the speaker's chair.
    Boehner was reared in a two-bedroom Sears catalog house in suburban Cincinnati with 11 brothers and sisters, and parents who slept on a pullout couch until they built an addition that added more bedrooms. As the second-oldest child, Boehner was the authoritarian who made sure the younger ones did their homework and cleaned their rooms. He's still a neatnik.
    The Boehners, like many big Catholic families, were what Bob Boehner calls conservative "Kennedy Democrats," but not politically active.
    At Archbishop Moeller High School, John Boehner was an average student and a better linebacker. After high school, it took Boehner most of a decade to get through night school at Xavier University, working odd jobs before landing at Nucite Sales, where he made his fortune.
    He speaks often of the turning point in the late 1970s when he became a Republican: He says it was when he started making real money — and discovered that he was paying more in taxes than he'd earned a few years earlier.
    Friends and colleagues all have a favorite Boehner story, most of them involving cigarette smoke. (His beloved Barclays were discontinued in 2007, forcing him to switch to Camels.)
    Rep. LaTourette thinks back to 2004, when he was going through a bad divorce and feeling beaten down in the last few weeks of a campaign.
    That's when Boehner's banged-up campaign bus rolled into town.
    "The door opens and this huge cloud of smoke comes winging out of the bus," LaTourette remembers. "Boehner steps out and says, 'Come on, let's go door to door.' It was a great lift of spirits."
    Boehner acknowledges his smoking is a bad habit, but he doesn't seem inclined to quit.
    It's all part of Boehner's persona, which has brought recent comparisons to Don Draper of TV's "Mad Men."
    Boehner, whose wife stays in Ohio, lives in a basement apartment while in Washington. He's up early to check news sites and his Facebook page, out the door for a long walk or bike ride by 6:30 a.m. Then he hits a nearby diner for breakfast.
    Despite a well-earned reputation for working the room at evening fundraisers and cocktail parties, Boehner tries to be in bed by 10.
    "He wears most of his foibles on his sleeve," says former aide Holt.
    "He enjoys a glass of wine. He smokes. He's a hopeless schmoozer. He enjoys golf."
    Holt says that's part of what makes Boehner real and approachable.
    Boehner, for his part, says there's nothing untoward about keeping in close touch with business interests.
    Give him a day off, and he'll be happy to spend it on the golf course. He loves the game, and he's good at it, even if friends say he has a funny hitch at the top of his swing.
    He also multitasks on the links, courting campaign donors and lobbyists.
    "If you're going to ask people to give you money, why not let them enjoy themselves," he told Golf Digest in 2005. Boehner said he doesn't discriminate against lobbyists who don't golf, but added: "If someone I've gotten to know on the golf course comes into my office with a good argument, I tend to want to listen." (SD-Agencies)