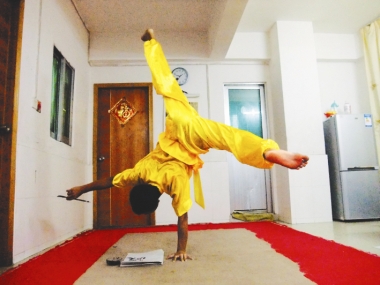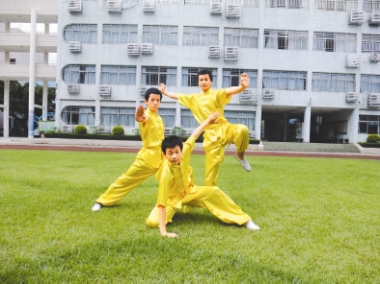 Wang Yuanyuan
As a teenager, Chen Yinghua seemed destined to live in the spotlight. His outstanding martial arts abilities, along with those of his two brothers, set him apart from typical children.
And as if that wasn't enough, he then invented a unique art: "handstand calligraphy."
"It is a combination of martial arts and calligraphy, where the key is balance. It is my creation and I believe no one in history has done it before," Chen, 16, says proudly of his creation.
The triplets were featured on China Central Television (CCTV) showing their special calligraphy skills. "I felt really proud that they showed my creation on a national program," says Chen, a junior three student at Shenzhen Jingxiu Middle School in Futian District.
Natives of Meizhou, Guangdong Province, Chen and his two younger brothers had an extraordinary childhood. They began learning martial arts from their father at the age of 7. Since then, they have experienced both hardship and triumph, and won numerous prizes.
"It is difficult to learn kung fu, but nothing can compare with the feeling when you win a competition, so it is worth it," Chen says.
Hard graft
Chen was born into a family of martial artists.
Chen Liang, Chen Yinghua's father, says: "Our family has been learning martial arts for more than 150 years. My father, Chen Limin, was of the 28th generation of disciples at South Shaolin Temple in Fujian Province."
When Chen and his brothers were just 4 or 5 years old, Chen Liang began teaching them basic skills such as the trestle and handstands. They started learning their family's fist style when they were 7. "It was our unique style, Tiejia Fist, created by our ancestors," Chen says.
Since then, the triplets have practiced every day in the morning and at night. "We start at 6 a.m. to do some basic practice and jogging, and practice Tiejia Fist every day after school. Two hours a day for the past nine years," Chen says.
As a child, Chen could not understand why he and his brothers had to practice so hard while other children were playing outside. "At that time, I wished I could live like others and did not want to do any of this. But now I recognize our kung-fu style is a culture that should be carried on from generation to generation."
It took Chen a year to learn the forward somersault, in a yard near their home. "I left a big hole in the ground from practicing; a huge hole. The property management was afraid we would destroy the grass if we kept practicing like that, so we were banned from the premises and had to practice every day at Lianhua Hill Park," he says.
Chen is very happy that he's not alone in his training, as he always has his beloved brothers with him. "One thing good about being triplets is that they've got your back all the time," he says. "When I feel tired and see them working so hard, it gives me strength. We seldom give each other encouraging words, but we understand each other. That is the biggest encouragement for me."
Glorious victories
Over the years, the triplets have become martial arts stars among the city's students. They've taken gold at numerous competitions and won several prizes in national TV events, such as CCTV's Special 6+1 contest. They were also invited to perform at a publicity event for the Beijing Olympics in 2008 and the Shanghai Expo in 2010.
"It's been a great honor and I cannot remember how many prizes I've won over the past few years. I am very happy and proud of the achievements," Chen says.
But Chen is happiest when he is invited to perform his handstand calligraphy, which he hit upon after eight months of hard practice.
"One day, I was practicing standing on one hand. I had a wooden stick in the other hand and was doodling on the ground to practice my balance," Chen recalls. "Suddenly I realized that if I used a writing brush, I could do calligraphy, as I started learning calligraphy from my father when I was little."
This turned out to be harder than it first appeared. "Every stroke you make could destroy your balance," he says.
It took Chen eight months to perfect his new skill. His younger brothers, Chen Weihua and Chen Shanghua, then joined him to promote the talent.
Chen Liang is very proud of his son's ability. "He is much better than me. He likes searching for information on the Internet and studies martial arts together with his brothers. They've created many new movements and learnt many things that I did not know. I am very glad he has such passion for martial arts," he says.
An ordinary schoolboy
Thanks to his experience and skills, Chen now has many fans at school.
"Many of my classmates asked me to teach them martial arts and we had some 'students' of our own, but learning martial arts is hard: none of them stayed long," he says.
In the classroom, Chen is just a normal student who studies hard, rarely showing his martial arts abilities.
Many people assume that with such great kung fu, Chen must be the "king of students," able to win all the fights at school. "We've never done that. We are the ones who tell others not to fight," Chen says.
"Learning martial arts is about learning Chinese culture and improving yourself, but school is a place to study. I've never mixed them up," he says.
Future dream
However, Chen isn't certain where all of this will lead.
"As a junior student, I wish to do something big in the future and I don't know whether martial arts can be a career to support my life. But maybe I will work in the field. Who knows?" he wonders.
Even so, Chen will keep practicing martial arts to carry on the spirit he learnt from his biggest idol: his father, Chen Liang. "I appreciate everything he's done for me and I hope to teach my children like he taught us," Chen says.
Chen's biggest wish now is to participate in international events to challenge himself. "When I am 18, I will participate in international competitions to compete with some true martial masters," he says.
"I want to find out what my true level is and I want to spread the culture of martial arts on a wider platform."