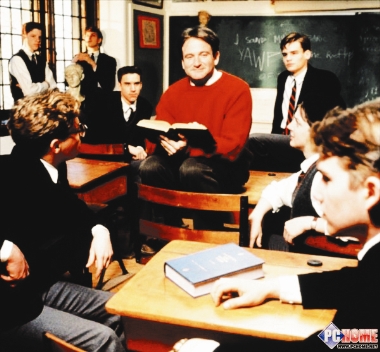 Annie Lu
    "Dead Poets Society" is one of the best movies I have ever seen. The movie is just like a tempting dream. Everything is beautiful. Not until the end of the show did I realize that it's an artificial world, like "Alice's Adventures in Wonderland."
    Welton Academy is a bookish private school. When Professor Keating arrives in the classroom with a whistle, he brings with him subversive ideas.
    He tells his students "Carpe diem," which means "to seize the day." He gives total freedom to his boys. They stand on their desks to think about things in a different way. They write passionate poems of self-discovery, to find the truth.
    Keating says: "Boys, believe it or not, each one of us in this room is one day going to stop breathing, turn cold, and die." The students are young and full of vitality; they feel invincible. However, someday they will die and be forgotten.
    So when the boys listen to their heartbeats, they hear a small voice telling them "Carpe diem, seize the day, make your lives extraodinary."
    The boys write poems and learn to relish the beauty of language. They begin to crave beauty, romance and love. They fight against tradition. They want to control their own lives.
    At the end of the movie, when Keating has to leave, the boys stand on their desks and trumpet: "Oh! Captain! My captain!" That moment I burst into tears.
    Sometimes we are confused. We do not know where to go or even who we are. Thoreau said: "Most men lead lives of quiet desperation."
    He also wrote:
    "I went to the woods because I wanted to live deliberately ...
    "I wanted to live deep and suck out all the marrow of life!
    "To put to rout all that was not life...
    "And no, when I came to die, discover that I had not lived..."
    Keating reminded me of this poem.
    Both uplifting and emotionally crushing, this movie will make you want to improve your life and follow Keating's advice by seizing the day.
    In recent years, "Dead Poets Society" has become a curious platform for deconstruction and revisionism. Viewers wonder, among other things, whether Neil was so troubled because he was secretly gay; whether Keating might have contributed to his death; whether "seize the day" isn't such a great motto after all.
    But no matter: this is a great movie rich in ideas.