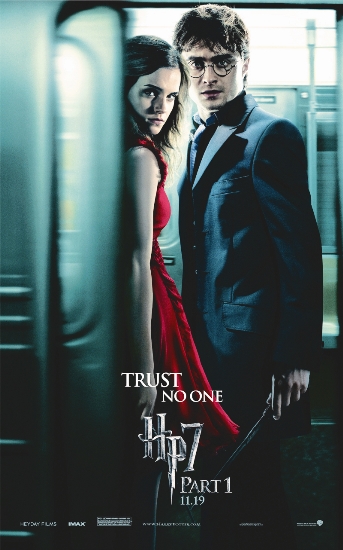 THE seventh and penultimate Harry Potter movie had its world premiere in London on Thursday, with another big pay day virtually guaranteed for studio Warner Bros. despite its failure to get a 3D version ready in time.
    Warner decided to split the seventh and final J.K. Rowling book about Harry and his wand-wielding adventures into two films after the first six movies amassed a staggering US$5.4 billion at the global box office.
    "Harry Potter and Deathly Hallows" (Part 1) premieres Nov. 19 in China and Part 2 is out next July. The first part moves relatively slowly and charts the three friends' emotional journey, while the second half involves a huge battle — an epic struggle between good and evil.
    Yet the hugely popular franchise has yet to break the billion-dollar barrier with a single title, and a 3D release would have made that landmark a near certainty, experts said.
    "I think the 3D issue must be a big disappointment for Warner Bros." said Andreas Wiseman of Screen International.
    "I think they've really missed a trick. Other big franchises like 'Saw,' 'Shrek' and 'Toy Story' have gone from strength to strength by turning to 3D."
    He added that Part 1 may cross US$1 billion in global ticket sales even without higher prices commanded by a third dimension, and that the franchise has another chance to cash in on 3D with Part 2.
    Director David Yates said despite the failure to release a 3D version of Part 1 in time, he hopes this problem will be resolved for the second part. "I'd love the last one to be in 3D — the second one is a big spectacle, it's operatic, it's battles, it's spiders, it's giants, it's dragons. I think it could work," he said.
    In Part 1, Harry, Ron and Hermione leave behind the safety of school and their families to seek out horcruxes, items in which Voldemort has hidden pieces of his soul, so they can destroy them and ultimately bring him down.
    Set against the backdrop of a wizarding world increasingly under Voldemort's evil influence, the film focuses on the close friendship between the main characters and builds on the budding romance between Hermione and Ron.
    The movie trailer suggests the film will feature a familiar mix of spectacular action sequences and increasingly dark storyline with the added twist of a bust-up between Harry and Ron.
    The actors playing the three central characters for the last decade are in the middle of a grueling round of interviews to promote the film, and have spoken of mixed feelings about a franchise that turned them into A-list stars and millionaires.
    Rupert Grint, 22, felt a sense of relief that a decade of filming had finally ended. "It's just really great, it's a sense of real freedom because filming on Harry Potter ... it does take over your life and it is really long shoots and it's just nice to be out and do your own thing for a change," he said.
    Daniel Radcliffe, 21, seems firmly set on acting with a hope of taking up directing at a later date, while Emma Watson, 20, is studying a liberal arts degree in the United States and has already forged a path for herself as a fashion model.
    Watson and Radcliffe show little interest in taking up their roles once again — although the latter said he might be tempted if ever asked to take on the role of the headmaster of Hogwarts.
    "Ten years is enough with one character, but if they offer me Dumbledore's part, I'd think about it," Radcliffe said.(SD-Agencies)