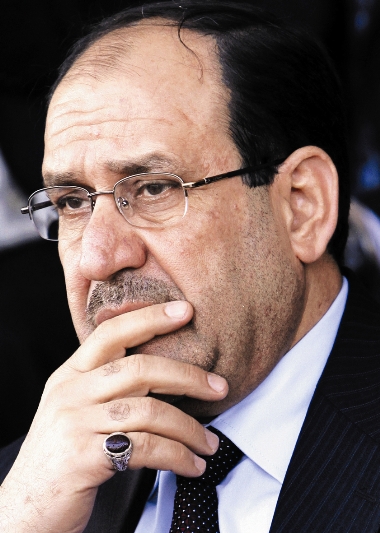 Iraq's leaders reached a tentative agreement Wednesday to create a unity government embracing the country's major ethnic and religious factions, ending an eight-month political impasse and returning Nouri al-Maliki to power for a second term as prime minister.    
    IRAQI Prime Minister Nouri al-Maliki will return to power for another four-year term after Iraqi lawmakers working late into the night Wednesday agreed on a tentative deal to form a new government.
    The deal breaks an eight-month impasse that paralyzed the government, encouraged insurgent attacks and rattled potential foreign investors. Iraqiya, the Sunni-backed secular coalition which had vehemently opposed al-Maliki, finally resigned itself to serving in his government along with the other main political groups.
    "Finally, fortunately, it's done. It's finished. All the groups are in it," said Kurdish lawmaker Mahmoud Othman, who took part in the nearly seven hours of negotiations Wednesday following talks the previous two days.
    The deal involves concessions to both the Kurds and Iraqiya, which is led by former prime minister Ayad Allawi.
    But the return of al-Maliki to the premier's post underscores Iran's rising influence in Iraq at a time when American forces are leaving. It was Iran that engineered al-Maliki's recent endorsement by anti-American cleric Muqtada al-Sadr, who controls 40 seats in the new parliament. The two men, fellow Shiites, had been enemies in the past.
    It was unclear what role al-Sadr and his hard-line Shiite faction might play in a new government — and whether al-Maliki's partnership with the Sadrists could derail pro-Western security and commercial policies.
    Al-Maliki was born in 1950 in Janaja village in Abu Gharaq, a central Iraqi town situated between Karbala and Al Hillah. He is a member of the Al-Ali tribe, an offshoot of the Bani Malik tribe.
    His grandfather, Muhammad Hasan Abi al-Mahasin, was a poet and cleric who was the president of the Revolutionary Council of the Iraqi revolution against the British in 1920, and served as Iraq's minister of education under King Faisal I.
    Al-Maliki received a bachelor's degree at Usul al-Din College in Baghdad, and a master's degree in Arabic literature from Baghdad University.
    He lived for a time in Al Hillah, where he worked in the education department. He joined the Islamic Dawa Party in the late 1960s while studying at university.
    On July 16, 1979, al-Maliki fled Iraq after hearing the government of Saddam Hussein planned to execute him. He was sentenced to death in absentia in 1980.
    According to a brief biography on the Islamic Dawa Party's Web site, he left Iraq via Jordan and soon moved to Syria, adopting the pseudonym "Jawad."
    He left Syria for Iran in 1982, where he lived until 1990, mostly in Tehran, before returning to Damascus where he remained until the 2003 U.S. invasion toppled Hussein.
    In Syria he worked as a political officer for Dawa, developing close ties with Hezbollah and particularly with Iran. From Syria, he also directed the efforts of Dawa guerillas to topple Hussein throughout the 1990s.
    Before his return from exile, he was asked about what kind of society he wanted his country to become in the future.
    Al-Maliki said he wanted to see a pluralist Iraq whose various ethnic and sectarian groups regarded each other as equals.
    He was elected to the transitional National Assembly in January 2005. He was considered a tough negotiator in drawn-out deliberations over the new constitution, and was the senior Shiite member of the committee that drafted the new constitution that was passed in October 2005.
    Al-Maliki came from political obscurity four years ago when he was chosen as a compromise candidate to lead the country at a time when Sunnis and Shiites were battling in the streets.
    As prime minister, al-Maliki has vowed to crack down on insurgents which he calls "organized armed groups who are acting outside the state and outside the law." He once said: "We did not provide any sanctuary or opportunity for any outlaws, whether they were followers of the Mehdi Army or Muqtada al-Sadr or the Islamic Council or even of the Dawa party. This is the truth all Iraqis know and are proud of — we deal with all outlaws equally."
    On Dec. 30, 2006, al-Maliki signed the death warrant of Hussein and declined a stay of execution, saying there would be "no review or delay" in the event. Citing the wishes of relatives of Hussein's victims, he said: "Our respect for human rights requires us to execute him."
    After only two years, as of late 2008, the al-Maliki government has witnessed improvements in the security situation in many parts of the country. In Baghdad, a peace deal signed between Moqtada al-Sadr's Mahdi Army and the government had eased tensions, though sporadic sectarian incidents continued, as did occasional fighting between U.S. forces and Shiite militiamen, particularly in Sadr City.
    Al-Maliki has had some success in finding compromise. In July 2008 al-Maliki, who earlier in the year fought off a recall effort in parliament, convinced Sunni politicians to end a year long boycott of the chamber and appointed some of them to Cabinet positions. Analysts said the return of the Sunnis was made possible by the security gains under al-Maliki and by apparent progress in negotiations with the United States over American military withdrawal.
    He has had, at times, a contentious relationship with the press. On Aug. 24, 2006, he banned television channels from broadcasting images of bloodshed in the country and warned of legal action against those violating the order. The international Committee to Protect Journalists (CPJ) wrote to al-Maliki complaining of a "disturbing pattern of restrictions on the press" and of the "imprisonment, intimidation, and censorship of journalists."
    Al-Maliki has spoken about the need to make a secure and sustainable environment for investment in order for successful reconstruction and has enacted new investment laws to try to achieve this.
    But his critics say he ruled with a heavy hand and grabbed too much power. His commitment to the rule of law was called into question with recent revelations of widespread abuse of prisoners by Iraqi security forces and reports that Iraqi forces ran a secret prison in Baghdad where Sunnis were allegedly tortured.
    (SD-Agencies)