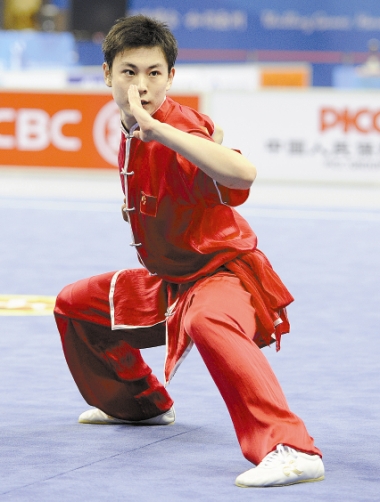 CHINA claimed the first gold medal of the Asian Games as Yuan Xiaochao took top honors Saturday when he successfully defended the men's changquan title in wushu.
    Japan's Daisuke Ichikizaki took silver and Ehsan Peyghambari of Iran won bronze.
    It was the first of 476 golds to be decided over two weeks of competition.
    Lin Fan completed a "double happiness" for the hosts by winning the women's nanquan and nandao combined competition later in the day.
    The defending champion Yuan, 22, overcame jittery nerves and injuries to fulfill his promise of "letting the Chinese national anthem be played first at the Games."
    Yuan's victory didn't come easily under the tremendous pressure to retain his title and so give the hosts an ideal start in their quest to top the medal table.
    Despite a chain of whirling kicks, lightning punches and acrobatic somersaults, he made an unsteady leg-split landing with his back leaning aside and hands almost touching the carpet, which was immediately responded with a chorus of "ah" from the crowd. Fortunately, Yuan seemed unaffected and finished his set of moves calmly.
    "I got my legs injured during the training a couple of months ago, which did affect my performances today," said Yuan. "In a competition like changquan, it's hard to make no mistakes. Fortunately, the result doesn't rely on one shot. I managed to make it up later."
    Gao Xiaojun, director of the Wushu Administrative Center under China's General Administration of Sports, hailed the "imperfect" success of Yuan and hoped the win would promote the sport across the world.
    "I had been hoping Xiaochao could win the medal without a hitch, because he has the ability. He was definitely suffering from his injuries and the huge pressure," Gao told Xinhua, adding that news of Yuan's injuries had been withheld from the public in a bid to "prevent Xiaochao from getting more stressed."
    "The first medal means a lot to Xiaochao, to China and also the sport of wushu, because the Asian Games is an important platform to promote the sport," he said
    Compared with her teammate Yuan, Lin Fan harvested a perfect win with flawless performances. The 23-year-old beat silver medalist Irmanto Ivana Ardelia from Indonesia with a conspicuous margin of nearly one point.
    (SD-Xinhua)