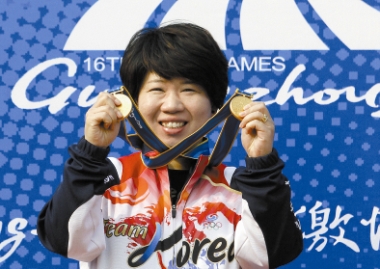 SOUTH KOREAN shooter Gim Yun-mi said being seven months pregnant might have given her just the boost she needed to win two gold medals yesterday.
    Gim, 28, came from behind to win gold in the individual 10m air pistol competition at the Asian Games, her second gold in Guangzhou.
    "I'm just speechless," a glowing Gim told reporters afterward, relishing her first international title. Her baby bump was barely noticeable beneath a black T-shirt and baggy tracksuit.
    Gim credited the baby, due early next year, with keeping her focused after she experienced pre-competition jitters.
    "I think my baby helped me stay calm and relaxed," she said. "I am so happy that we won the gold together."
    Gim, a newlywed, said she switched to the less noisy 10m air pistol event when she learned she was pregnant with her first child. She originally planned to skip the Asian Games and focus on the 2012 London Olympics.
    But after she posted unexpectedly good results at the nationals recently, husband Jin Chul-gyu encouraged her to go to Guangzhou.
    "I was worried that I'd be a burden to my team because of the baby," Gim told reporters. "But they were all very understanding and generous."
    Gim said she would share the golds with her new baby.
    (SD-Agencies)