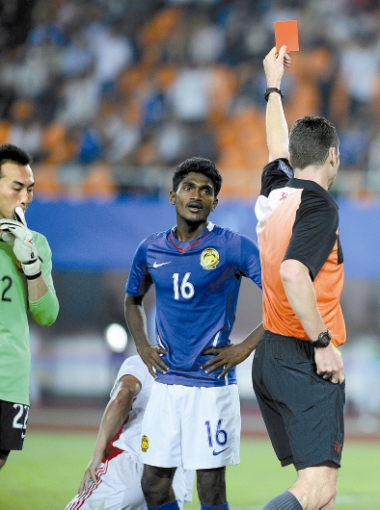 CHINA advanced to the second round of the soccer competition at the Guangzhou Asian Games after beating Malaysia 3-0 at the Tianhe Soccer Stadium on Saturday.
    Although Malaysia finished third in the group behind Japan and China, the side also advanced to the knockout stage on account of beating Kyrgyzstan 2-1, which put the team in top place compared to other third-placed finishers.
    Because it is a six-group competition, the four best third-placed finishers made it to the second round, which will have 16 teams competing. China will face South Korea in the next round.
    Malaysia ended up playing with just eight men. Mahalli Jasuli picked up two yellow cards resulting in the automatic red card and was sent off by referee Williams Ben of Australia in the 24th minute.
    Hardly a minute later, team captain Safiq Rahim was also red-carded for protesting the referee's decision against Mahalli.
    The third red card was handed to S. Kunalan in the 81st minute.(SD-Agencies)