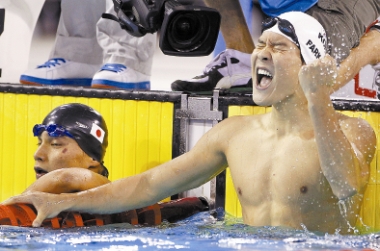 OLYMPIC champion Park Tae-hwan led from start to finish to set an Asian record in the men's 200m freestyle at the Guangzhou Asian Games, giving South Korea its first gold at the pool at the Games.
    The Beijing Olympics 400 freestyle champion shouted and punched his left fist in the air in celebration after shaving 0.05 seconds off his own Asian record of 1 minute and 44.85 seconds yesterday. Park has been trying to find form again after failing to qualify for the 400 final at the world championships in Rome last year.
    Park's win marked the first swimming gold that didn't to China or Japan.
    South Korea swept all four shooting gold medals to give it nine on the day overall.
    Still, China had collected 14 more golds yesterday and moved to a leading 33 during the second day of competition into the Asian Games, which end Nov. 27. South Korea has 13 gold medals overall.
    China topped the medal count at the last Asian Games in Doha with 166 gold medals and is on its way to repeating that.
    Jia Rui helped deliver Macao's first-ever gold medal at the Asian Games by winning the daoshu/gunshu all-round title in the Chinese martial arts of wushu.
    India, meanwhile, won its first gold of the Games when Pankaj Advani beat Nay Thway Oo of Malaysia 3-2 in men's English billiards.
    Japanese triathletes finished first and second in the men's race just 24 hours after two of their female compatriots took the major medals in the women's event. Yuichi Hosoda and Ryosuke Yamamoto finished one-two to make Japan the undisputed triathlon champions of the Asian Games.
    China's Zhou Jiawei brought home a gold in the men's 100m butterfly.
    Zhou led the race to win in 51.83 seconds, beating Takuro Fujii, bronze medalist of the event at Pan Pacific Championships in August, by 0.02 second.
    (SD-Agencies)