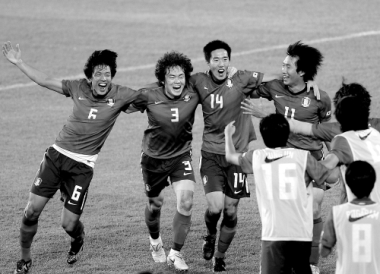 THE Chinese men's soccer team suffered a humiliating 3-0 defeat to archrival South Korea in Guangzhou yesterday when the hosts' aim to enter the last eight was shattered in a lackluster 1/8 final.
    The South Koreans faced few threats from a seemingly amateurish side, which created few chances and shots and put up a fragile defense.
    Three easy goals from Kim Jung-woo, Park Chu-young and Cho Young-cheol sent South Korea to the last eight and ended the hosts' journey in the Asiad soccer tournament.
    China was entirely on the defensive in the first 15 minutes when the South Koreans kept up pressure with their dangerous striker Park Chu-yong's lead.
    Four minutes later, Chinese players made a series of mistakes on the right flank before a speedy counter-attack by the opponents sent Kim Jung-woo unmarked into the area to beat helpless keeper Zhang Shichang.
    The hosts' only shot in the first half was also their best chance in 90 minutes when Maitijiang's follow-up header soared above the crossbar.
    Two minutes after the restart, Park Chu-yong showed his value as the wildcard overage player for his side.
    The striker from French club AS Monaco delivered a curving free kick to the far dead corner, widening the lead to 2-0.
    Cho Young-cheol scored the third goal in the 58th minute when the unmarked midfielder converted a left-wing low cross.
    (Xinhua)