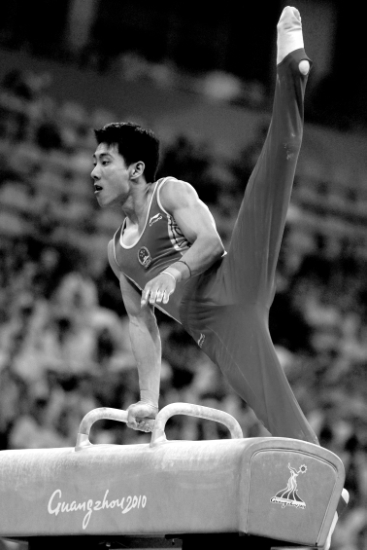 A CONFIDENT Teng Haibin dominated the men's all-around artistic gymnastics competition yesterday, easily winning the individual gold medal for China at the Asian Games.
    Teng overcame a slow start in the floor exercise with strong performances on the other apparatus for a final score of 91.100 points. Teammate Lu Bo was right behind him with a steady, consistent showing for the silver with 89.850 points.
    Hisashi Mizutori of Japan failed to improve on his all-around silver at the 2006 Asian Games in Doha but proved he remains a competitor by nailing his last routine on the high bar.
    That performance, one of the best of the day, vaulted him onto the podium for the bronze past South Koreans Kim Soo-myun and Yoo Won-chul, who finished fourth and fifth.
    The focus was on Teng, Lu and Mizutori as they competed in the same rotations of the six-event competition.
    Teng, who had the crowd at the Asian Games Town Gymnasium urging him on with chants of "Go! Go!" seized the lead on the pommel horse in the second round and never lost it. Teng was confident and consistent throughout, flashing a thumbs up at the crowd.
    It was vindication for criticism that he has performed inconsistently in the past, even costing his Chinese teammates a medal at the 2004 Athens Olympics with falls on every apparatus in the team event.
    "Back then, I was younger, so I was fearless," he said afterward. "But now, I'm more mature so I can adjust psychologically and think more clearly."
    Lu, coming off a sixth-place finish in the individual all-around at last month's World Championships, was consistent yesterday, turning in the top score in the still rings and solid marks for all six rotations.
    (SD-Agencies)