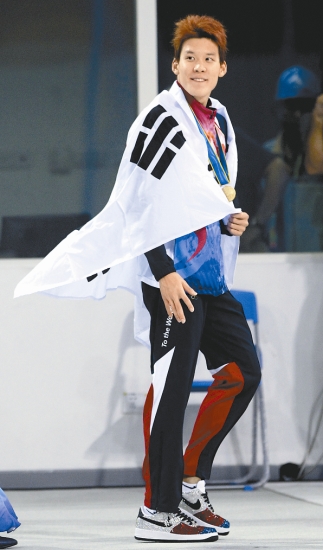 AFTER qualifying fifth-fastest for his signature event at the Asian Games, Olympic 400m champion Park Tae-hwan remarked that the lane allocation for the final wouldn't bother him at all.
    Park backed his post-heat comments last night with a gold medal in the 400, leading from the first lap to the eighth in a time of three minutes, 41.53 seconds.
    Two Chinese swimmers — fastest qualifier Sun Yang and Zhang Lin — won silver and bronze, respectively.
    "I'm getting old, so it is more exhausting to swim 400m than three years ago," Park said after the morning heats. "Although I will swim in lane two tonight, I will be positive."
    The 21-year-old Park had already given South Korea its first swim gold Sunday with victory in the 200 freestyle in an Asian record time.
    Hong Kong cyclist Wong Wan-yiu, knocked down in a multi-bike crash, finished the women's points race to claim silver at the Asian Games velodrome behind winner Liu Xin of China.
    "It was terribly painful, I could feel that there was a bike bumping against my ribs," Wong said when asked about her tears on the podium. "I never thought to give up."
    Another Hong Kong cyclist, Diao Xiao-juan, dislocated her shoulder and was among five who could not finish the race, which began with 17 cyclists. The points race is 80 laps (20 kilometers) and competitors can accumulate points during eight sprints, where the action can get fast and furious.
    A total of 37 gold medals were on offer yesterday.
    (SD-Agencies)