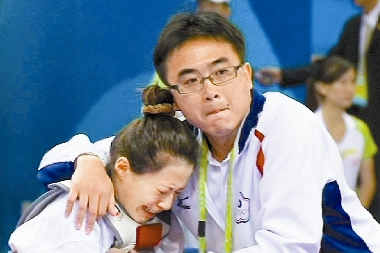 A JUDGING controversy hit the combat sport of taekwondo at the Asian Games yesterday, and Olympic swim star Park Tae-hwan won his third gold medal of the event.
    Yang Shu-chun of Chinese Taipei, easily leading her under-49-kilogram match, was disqualified for using illegal sensors on the back heel of each shoe.
    Yang Jin-suk, secretary general of the World Taekwondo Federation (WTF), told a news conference that officials noticed in a pre-match inspection that Yang Shu-chun appeared to have one extra sensor and told her not to use them.
    The judges noticed as the round progressed that she was using them, so disqualified her with 12 seconds remaining in the first round of her match. The 25-year-old Taiwanese competitor was leading Thi Hau Vu of Vietnam 9-0 at the time. Vu went on to win a bronze medal.
    "She was very well-known on the circuit … known as a very strong competitor, so why bother to do anything like that?" the WTF secretary-general said.
    "The fact of the matter is while she was out there competing, and the sensors were there, that relates to the question of did she get that many points because of the sensors?"
    Park, who won the 400 at the Beijing Games, lagged behind China's Lu Zhiwu after the first split but finished strongly in a time of 48.70 seconds. Park's strong showing in Guangzhou comes after he failed to qualify for the 400 free final at the world championships in Rome last year.
    At the velodrome, paramedics rushed onto the track for the second consecutive day after a crash in the keirin final that knocked two men out of the race.
    During yesterday's crash, China's Zhang Lei fell to the track and Iran's Mohammad Parash was unable to stop and ran over Zhang, then flew off his bike. Paramedics put a neck brace on Parash and carried him off on a stretcher.
    On Tuesday, five cyclists failed to finish a crash-marred women's points race. Wong Wan-yiu of Hong Kong, injured in the incident, completed the race and won silver despite injuring her arm and ribs. Another Hong Kong cyclist dislocated her shoulder.
    Wong was feeling much better yesterday, but wasn't sure if she would compete in the mountain cycling events.
    "It depends on my condition the next two days," Wong said. "I don't want to make my family worry about me."
    Azizulhasni Awang of Malaysia won gold in the crash-filled keirin race, Vladimir Tuychiev of Uzbekistan was first in the men's points race and China's Zhang Lei and Guo Shuang won the men's and women's sprints, respectively.
    Hwang Young-shik of South Korea, making his Asian Games debut, won the individual dressage gold medal, his second in the equestrian competition. Hwang led South Korea to the team dressage gold medal Sunday.(SD-Agencies)