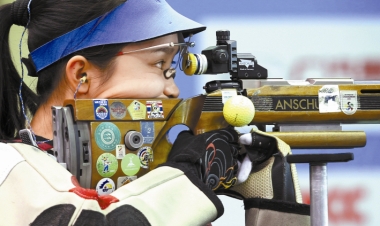 WANG CHENGYI of China clinched two titles to increase her Asiad gold harvest to three at the Guangzhou Asian Games shooting event yesterday.
    In the women's 50m rifle 3 positions individual event, Wang scored a total 682.9 points to get the gold after leading the Chinese team to the team title. Elaheh Ahmadi of Iran settled for the silver with 681.4 points. Wang's teammate Wu Liuxi shot down 680.1 points to bag a bronze.
    It was Wang's third Guangzhou Asiad title, after taking the women's 50m rifle prone and 50m three positions team event.
    "Every shooter here was expecting the title," said Wang. "But the Asiad is a little different. I wasn't so nervous as I was in the Olympic shooting range."
    Wang, who led by two points at the beginning of the final, wasn't on her top form. After hitting 10.7 and 10.5, she made four of her following five shots below 10. Ahmadi had a better start in the final with 10.8 points, but she shared the same low performance with Wang, making four of her five attempts afterwards, failing to seize the surpassing chance.
    Wu, trailing Wang by a distant six points, stayed high-level performance, hitting nine of her 10 shot above 10.0 to get the bronze.
    Earlier in the day, Wang led China to claim the team event in the women's 50m rifle 3 positions. The Chinese team totaled 1,733 points to get to the highest step on the podium.
    (Xinhua)