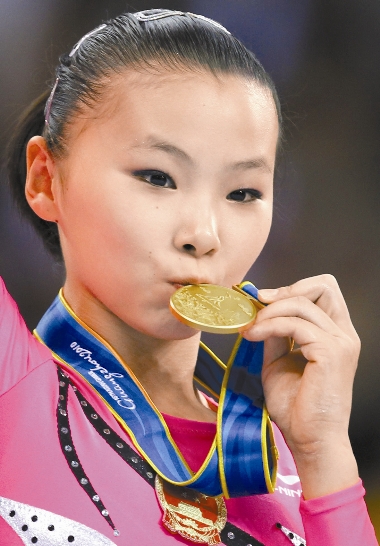 HE KEXIN, China's queen of the uneven bars, completed an international gymnastics triple Tuesday by winning an Asian Games title on the apparatus to go with her golds at the Olympics and world championships.
    Compatriot Teng Haibin showed off what he does best on the pommel horse event by winning his third gold of the games, while South Korea's Kim Soo-myun took home the competition's only non-Chinese gold so far by tying China's Zhang Chenglong in the floor exercise.
    India got its first-ever Asian Games gymnastics medal: a bronze in the floor exercise for a jubilant Ashish Kumar, at 19 already his nation's most decorated gymnast.
    It was another night that displayed China's dominance of the sport, with Chinese gymnasts winning golds in every category of the apparatus finals after winning the team and all-around titles.
    He, in eye-catching hot pink, continued her reign on the uneven bars with a performance that had the crowd roaring and earned the highest score of the night, 16.425 points. The gymnast is the reigning Olympic champion on the apparatus.
    "The score doesn't mean a lot to me," a confident He said. "It just proves my ability again."
    Teammate Huang Qiushuang, from Shenzhen, redeemed herself a day after slipping off the bars, a mistake that may have cost her the individual all-around title, with a strong performance Tuesday that earned her the silver.
    Japan's Koko Tsurumi took the bronze.
    Overcoming her nerves, Huang also won a gold on vault.
    (SD-Agencies)