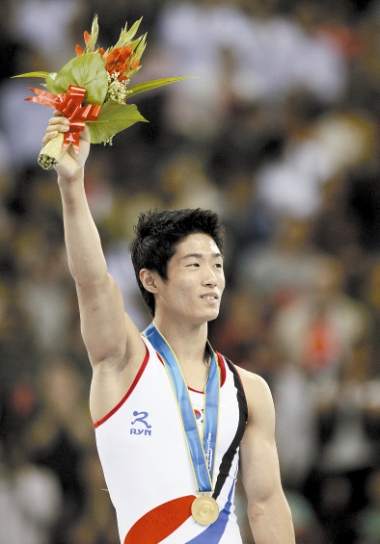 A STUNNING display by the "God of Vault," from South Korea, stopped China from completing a clean-sweep at the Asian Games gymnastics event Wednesday night.
    On the final day of action at a sell-out Asian Games Town Gymnasium, a formidable China team packed with world and Olympic champions finished just as they started — by winning almost everything in sight.
    Of 14 artistic gymnastics golds going at the Games, China won 13 — including one that was a joint title.
    And even at their best they might have had trouble stopping Yang Hak-seon from catapulting his way to gold on the vault with a highly impressive 16.400 points, well ahead of China's Feng Zhe, who earned silver with 15.850.
    Kazakhstan's Stanislav Valiyev won the bronze.
    Nicknamed "God of Vault," the 17-year-old Yang was the youngest gymnast in the men's apparatus final and followed the exploits Tuesday of compatriot Kim Soo-myun, who shared gold in the men's floor.
    "I made some mistakes in the first round but I'm pleased that I was able to overcome that and finally win this gold medal," said Yang.
    But China quickly took over, winning the rest of the four golds up for grabs.
    First, Sui Lu and Deng Linlin took gold and silver respectively in the women's balance beam, and then Feng went one better than he had on the vault, winning the men's parallel bars.
    Sui, who began training to be a gymnast at the age of three, was at it again in the floor exercise, leaping, springing and flipping to another gold with ease. It was her fourth of the Games.
    World champion Zhang Chenglong finished the procession of Chinese titles by winning the horizontal bar.
    (SD-Agencies)