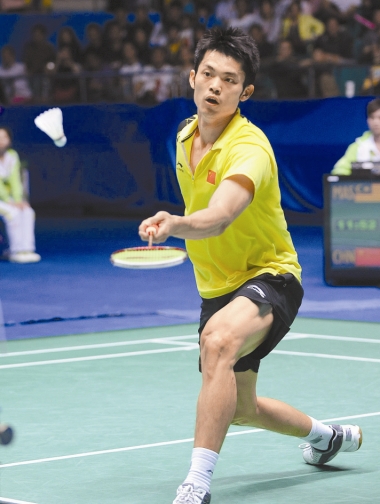 CHINA'S Lin Dan beat Malaysia's Lee Chong Wei 21-13, 15-21, 21-10 for the men's singles title in a clash of the world's top two badminton stars at the Asian Games last night.
    It was Lin's first Asiad singles title.
    "I'm happy to play against Lee Chong Wei. He's the best singles player and whoever plays against him will certainly need to go to great lengths. I'm not exceptional," Lin said before the match.
    Malaysia's Lee is the world No. 1 and he was also seeking a first Asian Games success, with the clash considered a test of physical and mental strength.
    Meanwhile, China's Peng Shuai beat Japan's Kimiko Date Krumm 7-6 (6), 3-6, 6-2 in their tennis semifinal match.
    It ended the No. 1-seeded Date Krumm's attempt to win Asian Games gold medals 16 years apart, her first having come in front of her home fans in 1994 at Hiroshima. "The season is almost over and my body is tired," Date Krumm, 40, said. "I came here mainly with the purpose of encouraging young Japanese players to improve their level."
    She laughed off any prospect of competing at the next Asian Games at Incheon, South Korea, in 2014.
    "I will be 44 years old in four years' time," she said. "I am not a robot."
    She had a game point to hold service in the eighth game of the third set, but consecutive errors gave Peng the first of her three match points. Date Krumm saved two before dumping a backhand into the net to end the 2 hour, 45-minute match.
    Peng will play Akgul Amanmuradova of Uzbekistan in the gold medal final. Amanmuradova rallied to beat Indian star Sania Mirza 6-7 (7), 6-3, 6-4 in 2 hours, 49 minutes in the other semifinal.
    India won three gold medals yesterday to increase its games total to five. Sudha Singh held off China's Jin Yuan in a tight finish to win the 3,000m steeplechase on the first day of athletics, and Preeja Sreedharan took the 10,000m in 31:50.47.
    Earlier, Indian shooter Ronjan Sodhi won the double trap with 186 hits.
    (SD-Agencies)