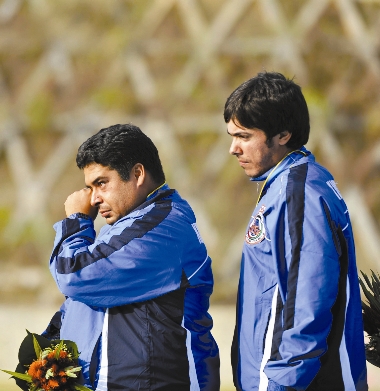 THERE are 45 countries represented at the Asian Games in Guangzhou. Technically, Kuwait is not one of them.
    The International Olympic Committee (IOC) suspended Kuwait's national Olympic committee at the beginning of the year for alleged political interference by the government, consequently barring Kuwaiti athletes and officials from the Olympic Games and making the country ineligible for Olympic funding.
    Still, the Gulf state is represented at the 16th Asian Games. It has 194 athletes competing in 21 sports under the IOC banner. They are simply labeled "Athletes from Kuwait."
    Naser Meqlad won the trap from countryman Khaled Almudhaf at the Guangzhou Shotgun Center on Friday. Both were disappointed at the medal ceremony, though, because there was no Kuwaiti flag raised and no anthem.
    "It hurts, and I cried twice," Almudhaf said. "But what can I do? I want to take the IOC flag off and hear my national anthem. My heart was a rock."
    Meqlad won the Asian Games gold medal closer to home when the last edition was held at Doha, Qatar, in 2006. He said he could never compare the feelings of having won his first gold.
    Olympic Council of Asia president Sheikh Ahmad Al-Fahad Al-Sabah is a Kuwaiti and understood the athletes from his country would be disappointed that they're not representing their national team. (SD-Agencies)