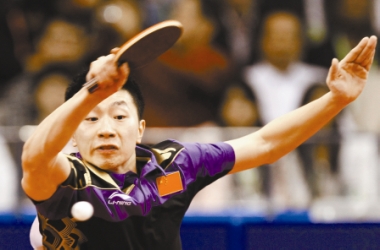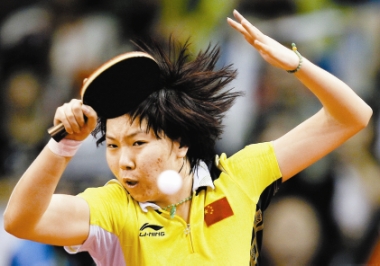 CHINA made it seven-out-of-seven table tennis gold when Li Xiaoxia stunned teammate and compatriot Guo Yue 4-3 for the women's title and world No. 1 Ma Long beat Wang Hao 4-2 for the men's crown in Guangzhou on Saturday night.
    It was China's second time to sweep all Asiad titles following their first table tennis success at the 1978 Bangkok Games.
    Li mounted a stunning comeback from three games down, overcoming early nerves to win.
    "I felt a bit nervous at first so I kept making mistakes," she said.
    "I was very stressed during the Asian Games. This was my first tournament back since my appendix operation in February. It was a huge setback for me so this is a turning point."
    China had already won the men's and women's team events as well as the men's, women's and mixed doubles.
    The competition in Guangzhou was a taste of things to come at the London Olympics for the Asia-dominated sport.
    "Playing well in one competition doesn't really mean anything … everyone says this is a preview of the Olympics but I will still work at it bit by bit, demanding more of myself," said Li, who at world No. 8 was the lowest-ranked player on China's women's team.
    "There's still two years' time, anything can happen."
    Guo, a left-hander who's known for her attacking style, initially controlled the pace of the women's final with her high-speed spin shots but began to falter midway through with her returns zipping off the table and out of bounds.
    Guo came into the finals after a difficult win earlier in the day over Japan's Ai Fukuhara. The diminutive Ai also forced Guo to seven games, challenging the Chinese athlete with aggressive attacks and taking advantage of her poor returns.
    "This afternoon's match against Ai really wore me out," the 22-year-old Guo said. "I thought I would be tired on the floor but I thought I played pretty well for the first three games."
    In the men's final, Ma and Wang challenged each other with powerful forehands, including a few rallies where they smashed the ball standing two meters back from the table. The crowd roared during the exchanges and chanted the name of whoever happened to be trailing at the time.
    "Getting second place, I think that's pretty normal," said Wang Hao, who's No. 3 in the world, two spots below his top-ranked opponent. "Ma Long and I play at a similar level, winning or losing is always decided by a point or two."
    (SD-Agencies)