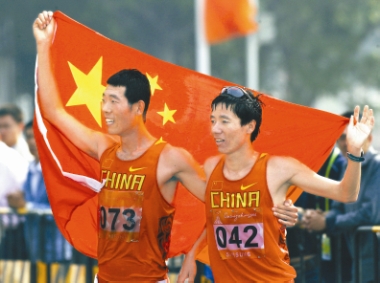 WANG HAO and Chu Yafei led China to a gold-silver finish in the 20km walk, the first athletics event at the Asian Games.
    Wang finished in 1 hour, 20 minutes, 50 seconds, with Chu slightly more than a minute behind in 1:21.57. Kim Hyun-sub of South Korea took the bronze in 1:22.47.
    Nine walkers started the race, but only eight finished after Park Chil-sung of South Korea was disqualified at the 16-kilometer mark for lifting.
    (SD-Agencies)