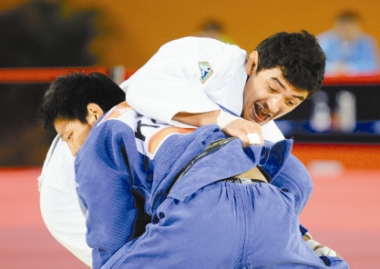 IN the first doping case at the Asian Games, Uzbekistan's Shokir Muminov was disqualified and stripped of his judo silver medal Friday for failing a drug test.
    Dr. Mani Jegathesan, chairman of the Olympic Council of Asia's medical committee, said Muminov's urine sample showed traces of the banned stimulant Methylhexaneamine.
    The 27-year-old Muminov lost the gold-medal match in the 81-kilogram division to South Korea's Kim Jae-bum on Nov. 14.
    Muminov "has been disqualified from the competition as well as these games and his performance has been nullified, his medal withdrawn and appropriate adjustment made to the results," Jegathesan said. "We have had discussions with the athlete on the possibilities of where he got the substance."
    Jegathesan said the substance did not come from the athletes' village, where organizers have been providing food, drink and medicine to athletes.
    The findings have been referred to the Uzbekistan committee, the international judo federation and to the World Anti-Doping Agency (WADA), which will determine any sanctions after holding a hearing with Muminov, he said.
    (SD-Agencies)