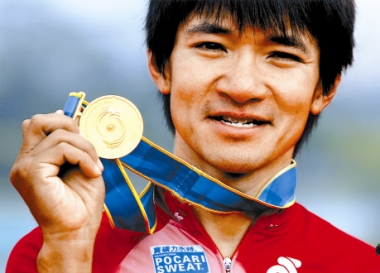 VETERAN Hong Kong cyclist Wong Kam-po won a controversial men's road race at the Asian Games yesterday after the original first-place finisher, Park Sung-baek of South Korea, was relegated to 19th for interference in the closing meters.
    Park was initially placed first in a photo finish over Wong, both in a time of 4 hours, 14 minutes, 54 seconds.
    But Park appeared to swing wide to his left in the final stages of the 9-lap, 180-kilometer race, and Wong signaled with his hand in the air immediately and again as he crossed the finish line to claim interference.
    The judges agreed, and Wong, a 37-year-old former Olympic rider, was given the gold. Takashi Miyazawa of Japan was moved from third to second to get the silver, and Zou Rongzi of China got the bronze.
    Officials, who said in a statement that Park was relegated "due to irregular sprint at the finish," demoted Park to the back of the leading pack. The race also featured a crash on the final turn, which involved six riders, but there were no serious injuries.
    Wong and Miyzawa were part of a four-man breakaway group that led most of the last 20km lap of the race held in a leafy university area of Guangzhou. Park moved up in the final kilometer and then initially appeared to have the race won after officials studied videotape of the finish.
    But Wong and his coach complained to officials, and after much discussion at the finish line involving both riders and their camps, Wong was given the gold. All three medal winners were given the same time.
    (SD-Agencies)