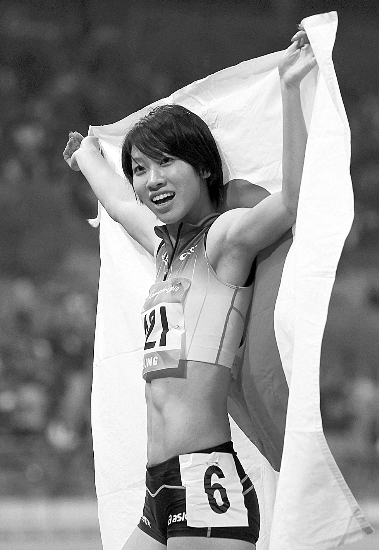 JAPAN'S Chisato Fukushima became Asia's fastest woman after clinching the 100m title in Guangzhou yesterday
    Fukushima blazed to the tape in 11.33 seconds but failed to threaten the Asian record of 10.79 seconds set by China's Li Xuemei in Shanghai, back in 1997.
    Guzel Khubbiera from Uzbekistan took the silver with a time of 11.34 seconds while Vietnam's Vu Thi Huong took the bronze with 11.43 seconds.
    Fukushima won her first Asian title in 100m with 11.27 seconds at the Asian Championships in Guangzhou in November 2009.
    Other track titles went to Kazakh Olga Tereshkova in the women's 400m while Qatar's Nigerian-born Femi Ogunode took men's gold over the same distance.
    The field events were dominated by China with Olympic bronze medalist Zhang Wenxiu defending her women's hammer title and Yang Yansheng clearing 5.50m for men's pole vault honors.
    The day was also notable for 1,500m world champion Youssef Saad Kamel failing to get through the heats.
    The Kenyan-born athlete blamed it on injury.
    "I got an injury on my right knee in June. I told my team officials but they didn't listen to me," he said.
    "They pushed me to come here and that's why I'm here. I can't achieve anything with an injury."
    Meanwhile, China's all-conquering divers hit the water with Shi Tingmao and Wang Han taking gold in the women's 3m synchronized springboard and Yang Liguang and Zhou Luxin winning the men's 10m synchronized platform. (SD-Agencies)