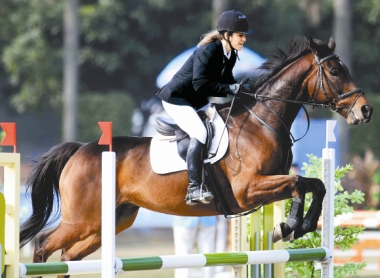 A KAZAKH pentathlete was knocked unconscious and taken to hospital and her horse put down with a broken neck after an accident during the Asian Games yesterday.
    Galina Dolgushina was thrown from her mount during the equestrian leg of the women's pentathlon at an obstacle in the show-jumping leg and landed on her head, leading to a temporary suspension of competition.
    The 29-year-old was stretchered onto an ambulance and taken to a hospital in Guangzhou in an unconscious state.
    A Kazakhstan official, however, said she was still undergoing medical checks at the hospital but her condition was stable.
    "She is bruised but alright," Kazakhstan's deputy chef de mission Aslan Amanov told reporters. "She has woken up. She can now walk around."
    Officials at the scene said that Dolgushina's horse, D252, had broken its neck and had to be put down.
    Rider safety in equestrian sports has come under severe scrutiny at the Asian Games following the death of South Korean rider Kim Hyung-chil at the 2006 Doha Games, when he fell and was crushed by his horse on a rain-soaked cross-country course.
    Modern pentathletes aim to score the most number of points in five disciplines — fencing, swimming, equestrian, shooting and cross-country running.
    Meanwhile, local media reported that blackmarket tickets to events featuring Chinese star athletes were commanding up to 20 times the face values. Scalpers were doing a brisk business for badminton superstar Lin Dan and Athens Olympics gold medal hurdler Liu Xiang.
    Police have arrested nearly 200 scalpers for attempting to sell more than 1,300 tickets.
    (SD-Agencies)