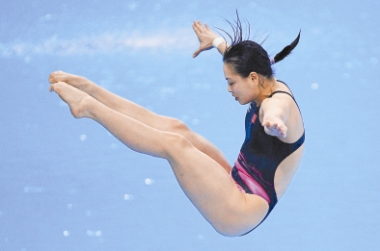 OLYMPIC champion Wu Minxia collected yet another diving title as China topped its record 166 gold medals at the Asian Games yesterday.
    China beat the record for gold it set at the Asian Games in Doha, Qatar, in 2006 with more than three days of competition remaining in Guangzhou.
    Wu, a former world champion and Olympic diving gold medalist, won the women's 1m springboard on day 12 of competition to match the record — China had 165 gold medals overnight. The host nation's only target for the 2010 Asian Games was to improve on its medal tally from Doha.
    Li Hong won the women's 50kg division karate gold medal to deliver China's 167th gold in Guangzhou. Li's win over Thi Nguyet Vu continued a frustrating wait for Vietnam, which has tallied 13 silver and 12 bronze medals but no gold. The number quickly rose about 170.
    China had never previously won a karate gold medal at the Asian Games or at the worlds, before Li's back-to-back successes.
    In other track and field finals, Li Caixia beat Chinese teammate Li Ling to won the women's pole vault, and Asian record holder Ehsan Hadidi gave Iran it's 16th gold medal of the Games with victory ni the men's discus.
    South Korea's Kim Deok-hyeon edged China's Su Xiongfeng in the men's long jump, leaping 8.11 meters on his last attempt. Su finished with 8.05 meters.
    South Korea was in second place, a long way behind, with 71 gold medals.
    Delegations from the two Koreas have indicated the teams would remain in Guangzhou until the Games end Saturday, and played down the conflict back home.
    "I don't want to get into politics," Kim Chang-kew, president of the Asian Associated Wrestling Committee, said. "We are [here] for sport and for these Asian Games. Sport should not be connected with war or peace."
    North Korea's Yang Chun Song met South Korea's Kim Dai-sung in the men's freestyle 66kg division in the first meeting of two Koreans yesterday. Yang advanced to the quarterfinals with a 3-0 win. There was no spite, and the wrestlers shook hands.
    Elsewhere, Afghanistan set up an Asian Games cricket semifinal against Pakistan with a comfortable eight-wicket win over Hong Kong, while Sri Lanka overcame some nervous moments in a two-wicket win over Nepal.
    "I think Pakistan will be more scared of us after today's performance than we are from them," Afghanistan captain Mohammad Nabi said.
    Sri Lanka captain Jehan Mubarak said his win was "too close for comfort."(SD-Agencies)