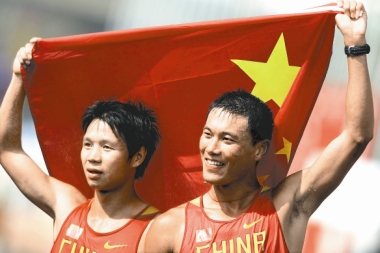 CHINA'S Si Tianfeng and Li Lei snatched the first two places from the men's 50km walking race at Guangzhou Asiad on Thursday.
    Si clocked a season best 3:47:04 to harvest China's 10th gold in athletics. Second-placed Li refreshed his personal record with 3:47:34. Koichiro Morioka of Japan took the bronze with 3:47:41.
    In the five-men race, Si, Li and Koichiro Morioka walked together to lead in the first 30 kilometers. Si sped up in the last 20 kilometers, and finally finished first. Koichiro Morioka tried hard for a second place, but Li's final sprint stopped the 25-year-old's hope.
    It was Si's first Asiad medal.
    "My performance today is quite O.K.," said the 26-year-old. "Our goal is the top place, so we didn't aim at our record. However, I walked my season best race. That's quite satisfactory."
    Si attributed his success to the one-year training in Italy.
    "The experience in Italy helped me a lot," said Si. "My next goal is to get a medal at London Olympics."
    The 23-year-old Li, who jumped into fame after becoming the national champion in 2009, started walking five years ago.
    "I felt it quite interesting when I started the sport," said Li. "At first, my coach thought I was too short to become a competitive walker, but I changed his mind by knocking down three straight provincial titles." (Xinhua)