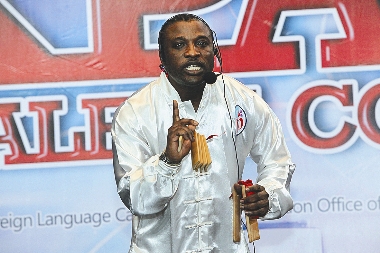 Li Hao
    "NI hao, wo shi Lei Feng." When Ghanian Anthony Prempeh, 32, introduces himself in near-standard Chinese, you forget his non-Chinese identity for a short moment.
    He gave himself a Chinese name, Lei Feng, the name of a famous young Chinese soldier in the 1960s who was admired all over China.
    Besides his fluency, Prempeh has a natural flair for Chinese etiquette in communicating with Chinese people, which leads one to question: Where did he learn it?
    A language school, which most expatriates favor for Chinese lessons, is not the answer.
    "I learned in my daily life," Prempeh says with a smile.
    He won third prize in the first Shenzhen Expats Chinese Talent Competition last week, when he stunned the audience with his fluent Chinese and an infectious performance.
    Early learning in Ghana
    His first encounter with Chinese language and culture can be traced back to his childhood in Ghana.
    "When I was a child, my playmates and I watched Chinese movies with English subtitles on TV every Sunday in Ghana. Nobody wanted to miss them.
    "I watched many movies by Jackie Chan, Jet Lee and even the ancient Chinese fairy story, 'A Journey to the West,'" he says.
    "I often thought that maybe one day, I could see these guys in China."
    Although as a small boy he could not understand what the characters in the videos said, he gradually became fond of a variety of Chinese images and started imitating their accents and habits.
    It became a routine for the boy and his friends to exchange simple Chinese words like "shifu" and "kung fu" after watching such videos.
    "We even used simple Chinese words as our nicknames," he says.
    His first interaction with Chinese people occurred well before he arrived in China.
    "In Ghana, there are a lot of Chinese working in the construction field. They rented our apartments, so I was surrounded by Chinese most of the time. It was like a Chinatown," Prempeh says.
    "When the Chinese tenants learned about my interest in Chinese, they offered to speak Chinese to me. Little by little, I started blurting out Chinese sentences."
    Learning in Shenzhen
    Prempeh arrived in Shenzhen 18 months ago to run an electronics business.
    "When I came to Shenzhen, I found some foreigners spoke quite fluent Chinese. At that time, I told myself: 'If they can, I can.'"
    However, he did not go to a language school. Instead, he continued his imitation strategy.
    "If you have a talent, all you need is to put in effort by yourself."
    He can now speak six languages.
    "There are some similarities in pronunciation between the Ghanaian language and Chinese. Plus, my memory is good," he says.
    He watched Chinese programs and listened to Chinese radio, imitating what he heard.
    In addition, he took the initiative to communicate with Chinese around him.
    "Sometimes when I was reading or listening to Chinese on a bus, I would ask other people for help," he says. "It's natural for Ghanaians to be extroverted."
    Prempeh's persistence and progress impressed his friends, who offered to teach him more about the correct use of Chinese.
    "When I'm able to make the right choice in a restaurant and use Chinese in my business in Shenzhen, I'm reassured about my persistence in learning Chinese."
    Positive attitude
    Prempeh put a lot of effort into his preparation for the first Shenzhen Expats Chinese Talent Competition, which he considered was a chance to bring out his "stage interests."
    "I like performing on stage. At school in Ghana, I played in dramas every semester. However, after I grew up, I never had a chance to do it," he says.
    Dressed in white traditional Chinese clothes, Prempeh performed a long Chinese monologue in the final, the length of which would have been challenging even for Chinese to memorize.
    "I wanted to challenge myself and push myself further, so I gave up the popular song in the final competition, which put me in first place in the semifinal," Prempeh says.
    Although busy with his work, Prempeh still took the time to prepare for the final.
    "All work and no play makes Jack a dull boy; all play and no work makes Jack a lazy boy; however, both work and play makes a complete and happy man," Prempeh says.
    "When my parents learned I was participating in the competition, they were not surprised, because they know that's me," he says.
    "I will continue to learn Chinese and sustain a positive attitude toward life."
    Although he ended up coming third, Prempeh was highly popular throughout the competition, not just for his language talent, but for his infectiously positive attitude.
    "Lei Feng knows Chinese culture well and his optimism and enterprise always have a positive influence on the people around him," says Lu Lixing, an English teacher and friend of Prempeh.
    "You are barely aware of a cultural gap when you communicate with Lei Feng," Lu says.