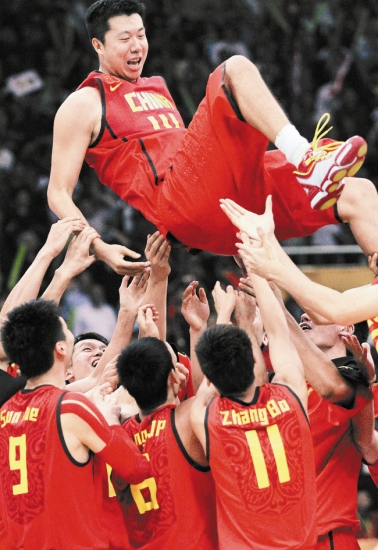 VETERAN center Wang Zhizhi blocked a shot and scored on an offensive rebound in the waning seconds as China beat South Korea 77-71 to defend their Asian Games basketball title Friday.
    Wang's late game heroics ended a three-point barrage by the South Koreans who had closed a 12-point gap in the last four minutes to 71-74 with 30 seconds left.
    The one-time NBA Dallas Maverick Wang, who could be playing his last Asian Games for China, led his team with 20 points while former Los Angeles Laker Sun Yue scored 14.
    Point guard Yang Dong-guen top-scored for the South Koreans with 17 points, including seven in the fourth period, while Kim Joo-song had 15.
    After finishing 16th in the world championships in Turkey in September, the Asiad crown was a must for China after it lost last year's Asian Basketball Championships to Iran at home in Tianjin.
    "I would like to thank my players for the unbelievable hard work and determination they put in to get the championship back to where it belongs," China's American coach Robert Donewald said.
    China started the game shooting hot, taking a 27-21 first quarter lead behind seven points by Wang, thrilling a soldout crowd of 18,000 fans at the sparkling new Guangdong Sports and Entertainment Center.
    The game belonged to Wang, 31, who was widely criticized as too old following last year's loss to Iran.
    In gratitude to his leadership, team players all put their gold medals around his neck and playfully bowed to him following the award ceremony.
    "As a veteran to win this championship makes me very happy," an elated Wang said.
    "Over the past year we have faced a lot of pressure and we did not play very well, people said our future was not bright, but we have worked hard and this is the result of our hard work."
    (SD-Agencies)