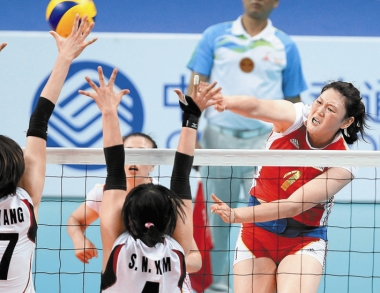 CHINA beat South Korea 3-2 in the women's volleyball final to claim the last gold medal of the Asian Games on Saturday.
    It was China's fourth consecutive Asian Games title.
    In front of about 8,000 spectators, China rallied from two sets down to win 21-25, 22-25, 25-10, 25-16, 16-14 to capture its seventh crown in style. China made the biggest difference in attack, winning 59 points on spikes against South Korea's 45. China also had six aces while South Korea had none.
    China built up an early five point cushion at 5-1, but Korea soon came back as the home side made four errors to allow Korea's first six points. After the first technical time out, Korea took the lead at 15-14 with a 5-1 surge and rallied to 23-18 as China made a series unforced errors.
    Ma Yunwen scored two points in a row for China to claw it back to 21-24, but Hwang Youn-joo secured the opening set win for Korea with a spike from the right side of the net.
    Korea went 3-0 ahead in the second set and widened the gap to five points at 8-3. China's head coach Yu Juemin was forced to call a timeout. It succeeded and Li Juan sparked a 5-1 run for China to go 8-9.
    China came back strongly in the third set, with Wang Yimei and Xue Ming consistent in attacking. China led throughout the set while Korea committed too many errors.(SD-Xinhua)