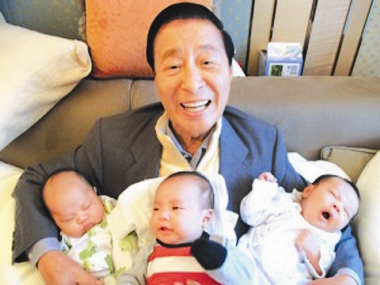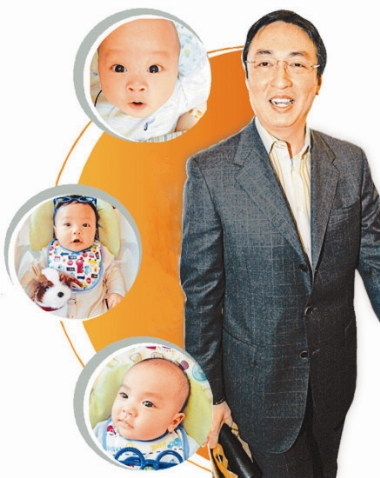 Hong Kong police are to investigate the case of tycoon Lee Shau-kee's son, Peter Lee Ka-kit, whose triplet sons were born by a U.S.-based surrogate mother.
    THE case of Henderson Land Development scion Peter Lee Ka-kit, who was reported to have hired a California-based surrogate mother to give birth to triplet sons, has been referred to the police.
    The birth of the three grandsons to Henderson chairman Lee Shau-kee in July sparked heated public discussion in Hong Kong amid reports that the father of the triplets, Peter Lee, a 47-year-old bachelor and a devout Buddhist, had hired a surrogacy agent.
    Secretary for Food and Health Dr. York Chow Yat-ngok told lawmakers Wednesday: "We can confirm that referral concerning suspected surrogacy arrangements has been made to the police for consideration as to whether investigation and law enforcement action is required."
    Chow, who mentioned no names in the case referred to police, was responding to lawmakers who asked about the government's policy on the use of commercial surrogate mothers by Hongkongers overseas. Commercial surrogacy is illegal under Hong Kong law.
    Lawmaker Cyd Ho Sau-lan referred to a case of a "male Hong Kong permanent resident" who issued a press release announcing the birth of three sons. Ho cited media reports that the man used a surrogate mother in the United States. Ho asked Chow if it was considered a violation of the Human Reproductive Technology Ordinance.
    Chow said he would not comment on individual cases reported in the media because "there might be an investigation, enforcement and further legal proceedings in future."
    A police spokesman confirmed the referral, but would not comment further.
    A source said police were investigating Lee's case.
    Civic Party lawmaker Ronny Tong Ka-wah asked if the Hong Kong government would seek to prosecute anyone if surrogacy was arranged in a country where the practice was legal.
    Chow replied that the government would consider if the relevant parties had arranged any part of the surrogacy in Hong Kong, or if they had the motivation to do so while they were in the city.
    A Henderson spokeswoman said they would not comment on the case.
    According to section 17 of the Hong Kong ordinance, one is prohibited from making or receiving payments in surrogacy arrangements, including initiating a negotiation, offering or agreeing to negotiate the making of a surrogacy arrangement, or compiling any information for such negotiations.
    One is also prohibited from finding a person who is willing to do any of the above. In addition, advertisements on commercial surrogacy are not allowed.
    The law also applies to payments made or received outside Hong Kong.
    No prosecution has been made under section 17 since the ordinance was passed in 2000.
    Democratic Party lawmaker James To Kun-sun, who is also a lawyer, said a police investigation was unlikely because evidence of irregularity would be too thin.
    "Just because someone is rich and can afford to hire a surrogate mother, it does not mean he would actually do it," he said. Nor would any participants be likely to admit to taking part, he said.
    Henderson announced the birth of Peter Lee's three sons Oct. 26. The babies, Chi-shun, Chi-yan and Chi-yung, were born in the United States. Peter Lee has not said who the mother is.
    Having male successors is of paramount importance to Hong Kong's tycoons. Lee Shau-kee, now a grandfather of five, shared the joy in a big way. His younger son Martin Lee has two daughters.
    The representative said Lee Shau-kee has set aside some HK$33 million (around US$4.3 million) in celebration of the births. HK$20 million was donated to Union Hospital in Hong Kong, with the rest divided among Henderson Land's approximately 1,300 employees, who each received HK$10,000.
    (SD-Agencies)
    About Peter Lee Ka-kit                         
    LEE is the vice chairman of Henderson Land Development, one of the largest property developers in Hong Kong, and the director of the Hong Kong and China Gas Company Limited. He is the elder son of Dr. Lee Shau-kee, the founder and chairman of Henderson Land Development.
    Lee is still single, but he has three sons which were born by surrogacy in the United States. His younger brother, Martin Lee Ka-shing, married Cathy Chui, a former TVB actress, in 2006. They have two daughters.
    (SD-Agencies)
    Debate rages over 
    surrogacy in HK
    THERE was no star-studded banquet to mark the 100th day of "Uncle Four" Lee Shau-kee's three grandsons.
    Instead, the family celebrated the occasion with a private gathering.
    The low-profile celebration came amid controversy surrounding the three boys, who were fathered by Peter Lee with a surrogate mother.
    "I think this is morally wrong. A core family should have a father and mother. The family is incomplete," said one caller to a radio talk show.
    Another radio caller, however, called for Hong Kong to have a more open mind towards surrogacy.
    "They are just not harming anyone and everyone has got what they needed," he noted.
    The Lee newborns have also become the talk of the city's upper crust.
    Lai Sun Garment chairman Lam Kin-ming congratulated Peter Lee, while property developer Cecil Chao Sze- tsung said he was happy for the new father. But Early Light International chairman and "King of Toys" Francis Choi Chee-ming was not so sure. "I am Chinese. After all, it's more reasonable to have children after marriage," he said.
    Strictly speaking, surrogacy is not against the law in Hong Kong, but using it for a commercial purpose is prohibited.
    The government has stated it has no intention to change the current laws.
    So far, authorities have not given a license to any organization, including the University of Hong Kong and Queen Mary Hospital, which are jointly planning to provide surrogate services next year.
    To obtain a license, institutions must have an expert team comprising at least two physicians, a legal adviser, a medical social worker and a clinical psychologist.
    (SD-Agencies)
    Peter Lee talks diapers
    in babies row
    PETER LEE has promised to try to bring up his three boys well, despite being a single parent.
    The 47-year-old said he was thrilled to be a dad and was even studying child psychology to equip himself for the job at hand.
    "It feels so special to cuddle the babies, it feels like the babies are hugging me. I will be a competent father," the Henderson Land vice-chairman said through a spokeswoman Oct. 27.
    "I will take classes to learn how to take care of the babies, like bathing and feeding them and changing diapers."
    Lee also promised to "learn how to be a single father" to the three boys.
    (SD-Agencies)