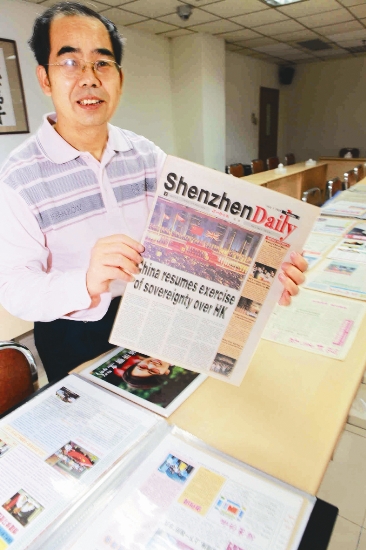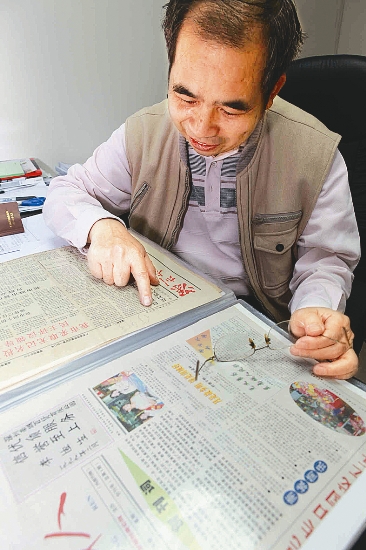 "Newspapers carry a large amount of information and allow everyone, be he a peasant or a leader, to enhance his or her knowledge bit by bit."
    — Lu Hanwang
    newspaper collector
    Jane Lai
    LU HANWANG, a 53-year-old Bao'an District civil servant, has collected more than 15,000 copies of Chinese newspapers over 24 years. Among these are more than 500 copies of Shenzhen newspapers.
    Thanks to his hobby, he has made a lot of friends from all over the country. Friends and relatives often dip into his newspaper "database" to look for the information that they need.
    In 2002, Lu exhibited his collection in Bao'an District and since 2008 he has been working on a book titled "A Brief History of Shenzhen Newspapers."
    Asked where his fascination with newspapers stems from, Lu answers: "Newspapers are an encyclopedia published every day. For me, newspaper collection means much more than a happy life."
    Paper, paper, everywhere
    Entering Lu's office in Shajing Subdistrict in Bao'an, visitors will find a labyrinth of newspapers — newspapers in folders, on windowsills, on the ground, and filling cabinets. The same scene can be found at his home in Bao'an.
    Among the over 15,000 different newspapers are Xinhua Daily newspapers published before the founding of the People's Republic of China in 1949, the Bao'an Newspaper issued after 1949 in Bao'an County, in what was then the fishing village of Shenzhen, as well as first, extra, trial, withdrawal and special editions of newspapers.
    Some of the first editions are now valued at several thousand yuan, thousands of times their original cost. The first edition of the Shenzhen Special Zone Daily, published May 24, 1982, a leading newspaper published by Shenzhen Press Group, is now worth 3,000 yuan (US$450).
    Reading the old newspapers can be a very interesting experience, Lu says, pointing to his newspapers issued during China's "Cultural Revolution" (1966-76), a mass movement that resulted in social and economic upheaval, as well as the destruction of antiques, historical sites and culture.
    "Looking back at the news about what were happening during that period, one can easily be drawn back to the memories of that crazy time. Newspapers that cost 1 to 2 yuan then are now priced at 20 to 30 yuan and are very popular. A lot of Hong Kong people visit the antiques market in Huangbeiling in Luohu District to buy newspapers published then."
    Lu also displays the Shenzhen Daily's first edition, an eight-page publication issued July 1, 1997. "The newspaper is the only English-language newspaper in Shenzhen and one of the [four] major English newspapers in China, so its first edition is particularly precious."
    His more than 1,000 extra editions are Lu's favorites. "Extra editions are popular among newspaper collectors because they always have a very limited volume and when they will be published is anyone's guess."
    Internal newspapers issued by companies and schools are also on Lu's collection list, although these are much more difficult to collect.
    A thirst for knowledge
    A local of Zhaoqing in Guangdong, Lu became interested in newspaper collection during his studies in Zhaoqing Normal Vocational School in the early 1980s.
    At that time, the country had limited publication resources — but the school had its own internal newspaper, which caught Lu's attention.
    "I realized newspapers carry a large amount of information and allow everyone, be he a peasant or a leader, to enhance his or her knowledge bit by bit," he recalls.
    After his graduation in 1982, Lu worked as a teacher in Zhaoqing for eight years and ended up in administrative work.
    In 1986, Lu submitted his details for a directory of newspaper collectors around the country. The book turned out to contain the details of 184 newspaper enthusiasts, vastly expanding his channels for collection.
    In 1992, Lu moved to Shajing in Bao'an where he worked as a civil servant, finding that his work and his hobby were a perfect match.
    "Much of my work involves documents and newspapers, while the historical and cultural information in the newspapers facilitates my work," he says.
    During that time, the newspaper industry in Shenzhen was going through a boom. Many of Lu's Shenzhen papers are now out of publication, including the Financial Morning Post, Bao'an Grand Culture and the Longgang League Newspaper.
    The oldest Shenzhen newspaper that Lu has is a copy of Bao'an Newspaper issued June 26, 1957. He bought it for 60 yuan from a collection exchange market 10 years ago.
    Lu donated it to Shenzhen Museum last year when the museum held an exhibition to celebrate the 30th anniversary of Shenzhen's reform and opening up.
    An elite circle
    Over the years, Lu has spent more than 100,000 yuan on his collection and buys piles of newspapers whenever he travels.
    Far more than a simple hobby, Lu is editing a book, "A Brief History of Shenzhen Newspapers," chronicling the history and development of the Shenzhen press.
    "Some people consider newspaper collection a boring hobby, but it means a great deal to me as every single day of a 365-day year it collects history, information, knowledge and friends," Lu says.
    There are only around 10 professional newspaper collectors in the city and 6,000 in the country, says Lu, who has forged a good reputation in this rarified circle.
    Only recently, Lu sent 300 newspapers issued in Guangzhou during the Asian Games to collectors outside Guangdong.
    Wan Yunge, a well-known newspaper collector in Hubei Province, says of Lu: "He always sends newspapers to other collectors free of charge. They know he doesn't care about the money, but more about how much his friends need that publication."
    Lu wishes to spend his retirement collecting more newspapers, including those issued outside Guangdong.
    "This is my life, simple but happy," he says.