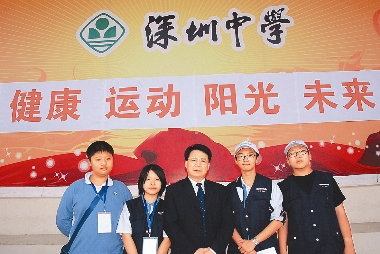 董奇玮 深圳中学初中部(22)班
    We had a school sports meet today. The theme this year was to make the students more united.
    In the opening ceremony, students from Grade 1 made a creative arrangement. They had many more new ideas than we did. They arranged the pretty balloons, which flew to the sky, became smaller and smaller and, at last disappeared. I thought this might be the best opening ceremony in our school until now.
    There were many kinds of competitions, such as 100-meter race, 200-meter race, 400-meter race, high jump and long jump. Doctors were standing by and the service for the athletes was very good!
    As a junior English reporter, I interviewed our principal. He told me that the theme of the Guangzhou Asian Games was "Thrilling Games, Harmonious Asia," and the theme of our school games was "Health, Sport, Sun, Future."
    The purpose of the sports meet is to keep students healthy and become stronger and stronger. Our stadium is one of those to be used for next year's Universiade. We are proud of it.