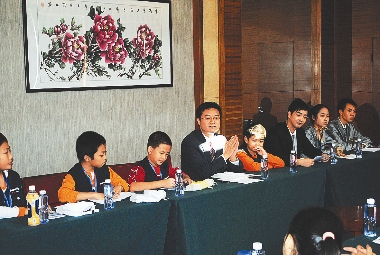 寇雨晴 福田区景莲小学五(3)班
    On December 5, we junior English reporters visited the LaFonte International Hotel in Shenzhen. It is a five-star hotel, very tall and big and there is a swimming pool on the seventh floor. I want to live there.
    Mr. Liu, the deputy executive manager, and his staff first gave us a warm welcome ceremony in the meeting room, which was just like a press conference. We were so excited. After that we began our interviews. I interviewed Mr. Wu Jiawei who works in the concierge department of the hotel.
    Mr. Wu told me the main duties of concierge workers. First, they welcome guests at the front door. Then they will handle the luggage. If the guest wants to send a parcel to somebody, the hotel concierge will help him do that. If the guest does not know the roads in Shenzhen, the concierge will show him the way. And they will attend to the cleanliness of the hall and the security because everyone likes to stay in a clean and safe hotel.
    Because it is an international hotel, there are many foreigners here. They come from different nations and have different customs and different interests, so the concierge has to prepare a lot of information for different guests.
    According to the hotel manager, the secret to success is to be polite, helpful and friendly. I wish the Lafonte International Hotel will be better and better.