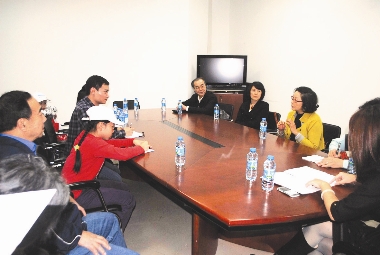 吴嘉航 南山中英文学校五D 
    Renowned as the "the great woman behind film dubbing," Yao Xijuan is a household name in China and has left people with a profound impression and an indelible memory for her perfect dubbing in movies and TV series such as "Women Volleyball Players" and "Blood Doubts."
    On December 11, we junior English journalists attended a promotion event for her vocal book "Language Art of Yao Xijuan for 'Dream of the Red Mansions.'"
    During the press conference, Yao answered our questions patiently. Her endless pursuit of art and her optimistic attitude toward life set an example for all of us.
    "Teacher Yao, what motivated you to be a dubber?" I asked.
    Yao smiled and said: "Interest is my best teacher. Just do it if you like it." She also told us that she had given up dubbing for movies and TV since it has become increasingly commercialized these days. She really had a lot of power behind her words and smile.
    I sincerely hope Yao will make more progress and be much more successful in the future.