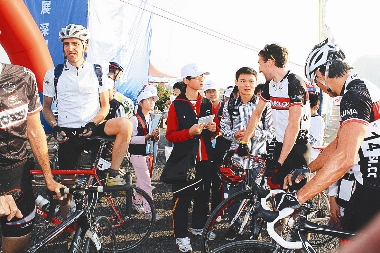 黄文珂 南山实验南头小学四(2)班
    With the theme of "Brand Culture, Fashionable Sports, Healthy Life," the third Shenzhen International Bicycle Festival was held in Neiwan Park, Shenzhen, from December 3 to 6. It is said to be the largest bicycle festival in the world and has a reputation for being the top in Asia.
    We junior English journalists took a fantastic chance to conduct an interview there. There were many people and flags in Neiwan Park. The competitors rode very fast and the viewers cheered in chorus. The competition was really dangerous but exciting!
    I interviewed a foreign competitor from New Zealand who came to Shenzhen for the first time. But he loved Shenzhen very much. Another one from Indonesia began to ride a bicycle when he was 13 and fell in love with this sport.
    It was such a wonderful day. I learned a lot from the competitors — courage, patience and perseverance. I will try my best to be an excellent English reporter.