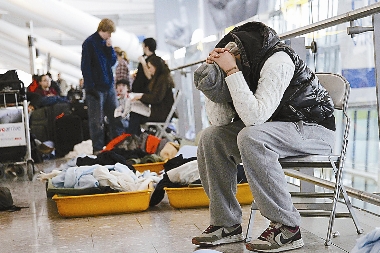 despairing passenger waits in Terminal 5 at Heathrow Airport in west London on Monday.
    HEAVY snow disrupted the Christmas holiday getaway in Europe, forcing the continent's biggest airports to close and thousands of stranded passengers to spend the night on terminal floors.
    In London, Paris, Frankfurt, Amsterdam and Brussels, flights were cancelled and airports warned of backlogs spilling well into the week, with snow and ice frustrating travel plans across Europe before Christmas.
    Hundreds of passengers had to sleep in terminals after becoming trapped in no man's land when their flights were diverted from affected airports and they were without a visa to leave transit lounges.
    (SD-Agencies)