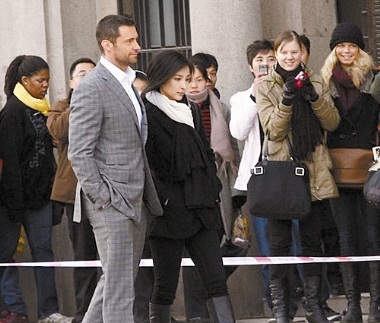 AFTER long-standing rumors pointed to Tom Cruise or Leonardo DiCaprio, Christian Bale was finally chosen to star in Chinese director Zhang Yimou's new film about 13 young prostitutes who help save compatriots from Japanese invaders ravaging Nanjing in 1937.
    Bale, who co-stars in the boxing drama "The Fighter," will portray a U.S. priest in the movie, which is expected to start filming in Nanjing on Jan. 10, Zhang told reporters Wednesday.
    The film is an adaptation of a Chinese-language novel by contemporary writer Yan Geling about 13 prostitutes who volunteered to replace university students as escorts for invading Japanese soldiers. In the novel, the U.S. priest presides over a Catholic church that shelters a group of prostitutes and young female students during the invasion.
    The book's title translates roughly as "The 13 Women of Nanjing" but the film is going by the working English title of "Nanjing Heroes."
    The film will mark the first time a domestically-funded Chinese movie has placed a Hollywood actor in a leading role, producers said.
    Asked if casting Bale was a ploy to raise the profile of Chinese cinema in the U.S. market — 10 times bigger than China's box office — Zhang said: "It's the overall strategy of Chinese cinema to approach the world and broaden its influence. But casting Bale was a coincidence because the script happened to have an English-speaking part in the lead."
    Zhang's highest-grossing film so far was the 2002 period war film "Hero" starring Jet Li, which took in almost US$54 million in the United States. His new film comes at a time when China's movie business is booming at home and dominant in parts of Asia.
    Bale, whose credits include "The Dark Knight," "American Psycho" and "Empire of the Sun," was chosen because of his versatility and dedication, Zhang said, noting he was impressed by the research Bale did into the history of the massacre.
    "I gave him the names of some books that he should read about the Nanjing massacre," the director said. "When I went to see him, I saw those books were lying open on his table, and I was very impressed."
    Producer Zhang Weiping would not reveal how much Bale was being paid to star in the film, which has a production budget of 600 million yuan (US$90 million), roughly equal to that of John Woo's two-part period epic "Red Cliff," the most expensive Asian-financed movie.
    The production is scheduled for global release next December. It's being filmed with a mix of spoken English and Chinese.
    China's movie industry is not alone in wanting to expand. The government has had its hand in promoting China's cultural footprint around the world.
    An indication of that push was the State Administration of Radio, Film and TV hosting 99 film festivals in 47 countries in 2009. Meanwhile, Chinese producers were more interested in foreign faces in films rather than foreign money.
    In January, Oscar winner Kevin Spacey was seen in Guangzhou for starring for Chinese-American director Dayyan Eng's black comedy "Inseparable." The movie tells the story of a young man (Daniel Wu) with family problems who is befriended by an American expat. Eng's actress-wife Gong Beibi, who also starred in his last two projects ("Waiting Alone" and "Bus 44") will play Wu's wife.
    In February, versatile Australian actor Hugh Jackman was in Shanghai for his role in "Snow Flower and the Secret Fan."
    Directed by Chinese-American filmmaker Wayne Wang, "Snow Flower and the Secret Fan" is a film adaptation of Chinese-American novelist Lisa See's 2005 book of the same name and depicts a lifetime friendship between two women in 19th-century Hunan Province. The film also features Chinese actress Li Bingbing and South Korean model-turned-actress Jeon Ji-hyun.
    Winning an international audience could mean tying a Chinese story to a Hollywood face.
    Zhang Weiping, chief producer at New Pictures Film Co. Ltd., said: "We invited Bale to join because I am thinking about the market and because we want the world to better understand Chinese culture."
    "Hollywood stars are expensive, but they are worth it because they can influence the whole world," he said.
    He said the expectation at the box office for "Nanjing Heroes" was 1 billion yuan, a goal that "does not pose a problem."
    China's total take at the domestic box office was expected to exceed 10 billion yuan this year, a growth of 43 percent over 2009, according to Xinhua. But much of those proceeds are owed to foreign blockbusters, likes James Cameron's wildly popular "Avatar."(SD-Agencies)