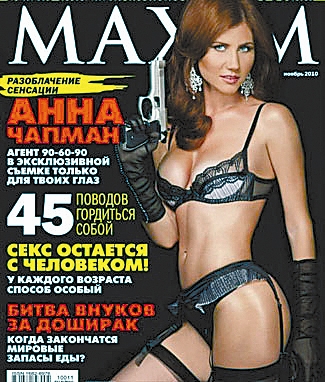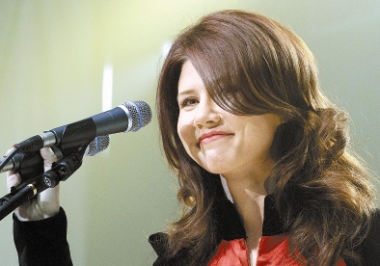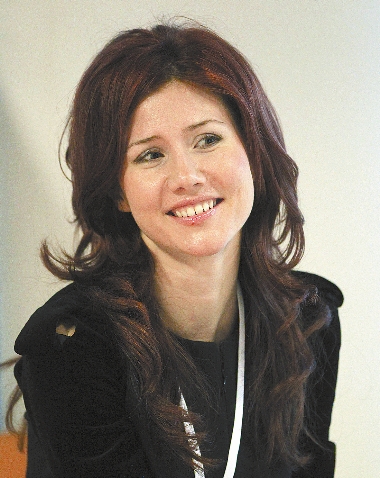 Former spy Anna Chapman publicly reaffirmed her allegiance to Russia and Prime Minister Vladimir Putin on Wednesday by joining the youth wing of his United Russia party. Chapman was exposed in the United States along with nine other so-called sleeper agents in the biggest spy swap since the Cold War and deported back to Russia this summer.    
    SEDUCTIVE Russian spy Anna Chapman on Wednesday won a key role in a pro-Kremlin youth group, telling her fellow young patriots that it was time to transform the future with a smile.
    Chapman, booted out of the United States along with nine other Russian spies in July, became a member of the social council of the Molodaya Gvardiya (Young Guard) youth group at its fourth congress, it said on its Web site.
    The Molodaya Gvardiya has its roots in the Soviet-era Komsomol youth group and was revived in the late 1990s to mobilize "patriotic" youth to support the authorities under Russian strongman Vladimir Putin. It is now part of Russia's ruling party United Russia, whose overall leader is Putin.
    Addressing the young delegates at the conference, Chapman, 28, urged her fellow youths to have a positive attitude to life.
    "My hope is that we start to be positive. We spent so much energy becoming a great power. We must be joyful about each coming day, each time there is a chance to create something new and useful."
    "We must transform the future, starting with ourselves!" Chapman, dressed in a tight red-and-black outfit with a zipper front told the audience in comments broadcast on state television.
    She mused: "There would be less negativity in society if we woke up with a smile. If every one of us was joyful we could do something useful and new."
    However when asked by journalists later exactly what her job in the group would entail, Chapman proved less talkative and asked her bodyguard to take her away, the RIA Novosti news agency reported. She then left.
    Timur Prokopenko, elected leader of the Molodaya Gvardiya at the same meeting, did not give details, telling the state news agency that Chapman was a "hero of our generation."
    Chapman is "an example of unconditional patriotism," Molodaya Gvardiya spokesman Andrei Tatarinov said in a statement. "She is a good example for the new generation."
    Her new work provides yet another role for the increasingly busy Chapman, who posed virtually nude for a Russian men's magazine, met Putin and attended a space launch since returning home.
    Chapman has also been hired as a representative of FondServiceBank, a Moscow bank that handles payments on behalf of enterprises in the Russian aerospace industry. Its acronym is curiously the same as Russia's Federal Security Service (FSB) domestic intelligence agency.
    Earlier this month, she even made a surprise appearance at a modernization forum attended by President Dmitry Medvedev.
    Her red hair and curvy figure ensured Chapman was by far the most prominent of the 10 spies expelled by the United States.
    The spies were given awards by Medvedev but former intelligence professionals have lambasted them for their apparently shoddy spycraft in the field.
    Chapman was the focus of a story in the January issue of Playboy that is accompanied by candid nude photos snapped by an ex-boyfriend, according to Playboy Enterprises spokeswoman Abi O'Donnell.
    In two of the pictures, Chapman is shown without clothes — sitting in a bathtub and holding a glass of champagne while sitting in a chair, O'Donnell said.
    Chapman was born in Volgograd and her father was employed in the Russian embassy in Kenya.
    She attended an elite boarding school and earned a master's degree in economics from the Peoples' Friendship University of Russia in Moscow.
    Chapman moved to London in 2000, working at a few companies for brief periods. She met Alex Chapman at a London Docklands rave party in 2001 and they married shortly thereafter in Moscow; as a result she gained dual Russian-British citizenship, and a British passport.
    After Anna Chapman was arrested in New York, Alex Chapman engaged media publicist Max Clifford, and sold his story to The Daily Telegraph newspaper.
    After her return to Russia in 2006, Alex stated that she began seeing a rich American man and moved to New York, where she started a real estate business.
    Her LinkedIn social networking site profile identified her as CEO of PropertyFinder LLC, a Web site selling real estate internationally.
    She was reported to have been dating Michel Bittan, a prominent New York restaurant owner. She later described her time in the United States with the Charles Dickens quote: "It was the best of times, it was the worst of times."
    After being formally charged, Chapman and nine other detainees became part of a spy swap deal between the United States and Russia, the biggest of its kind since 1986.
    The 10 Russian agents returned to Russia via a chartered jet that landed at Vienna International Airport, where the swap occurred on the morning of July 8. The Russian jet returned to Moscow's Domodedovo airport, where after landing the 10 spies were kept away from local and international press.
    After her arrest, Chapman gained overnight celebrity status. She was dubbed the "flame-haired beauty," "the modern day Bond girl" and "the stunning SoHo spy" by the media. Photos of Chapman taken from her Facebook profile proliferated the web, and a dozen or more videos of her appeared on YouTube.
    Magazines and blogs detailed her fashion style and dress sense, while her action figure dolls graced the tabloids.
    U.S. Vice-President Joe Biden, when jokingly asked by Jay Leno on NBC's Tonight Show with Jay Leno, "Do we have any spies that hot?", replied in a mock serious tone: "Let me be clear. It was not my idea to send her back."
    In October, Chapman posed on the cover of Russian version of Maxim magazine in Agent Provocateur lingerie. The magazine also included Chapman in its list of Russia's 100 sexiest women.
    Also in October, Chapman cooperated with Zeda Inc. to release an app for iPhone, "Poker with Anna Chapman." It includes pictures of her from an exclusive photoshoot, her personal blog and the possibility to add her as a friend on Facebook as the top prize.
    (SD-Agencies)