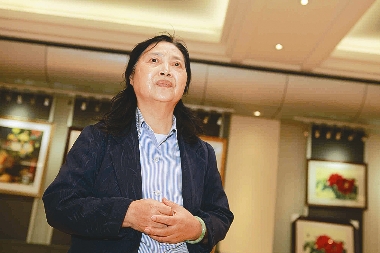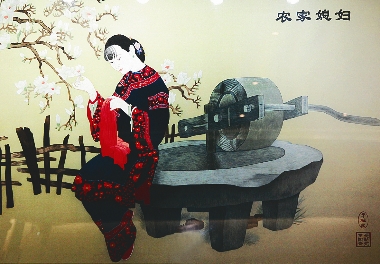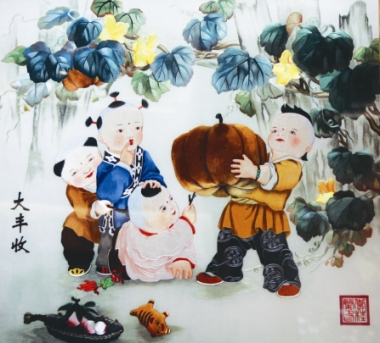 Han Ximin
    PEOPLE have different ways to experience true joy and happiness after retiring.
    It could be the golden years to harvest the fruits accumulated during the working years. It could be the best time to travel, visit friends who you haven't seen for years, or develop hobbies that you have ignored because you had no time.
    But for 73-year-old Li Guilan, a master embroiderer in Shenzhen, retirement is the beginning of a new career.
    Having established an embroidery company in Shenzhen in 2008 at the age of 70, Li is now trying every means possible to raise funds to realize another dream: the establishment of a spaceflight museum in Shenzhen.
    Li has a collection of thousands of photos, the most recent of which recorded her trip to the Jiuquan Satellite Launch Center in Gansu in April at the invitation of Major General Cui Jijun, director of the center.
    During her visit, she was dazzled by models of space capsules, impressed with the training facilities, equipment and special parachutes.
    "It is a waste to lock away so many wonderful things which reflect China's spaceflight and the lives of astronauts. They should be on display to the public and I have an idea to start a museum," Li said during a recent interview.
    "The museum will exhibit the growth and lives of China's space heroes through photos, training models, models of spacecraft, capsules and space suits, as well as food and utensils they use in space. It will also be an educational base to manifest China's spaceflight technology from Shenzhou I to Shenzhou VII and to learn the mysteries of space," Li said.
    A member of the Shenzhen Fine Arts Association, Li said the association had helped her apply for land. If it is approved, an exhibition hall costing 120,000 yuan (US$18,060) will be opened at the Shenzhen Science Museum at the end of 2012.
    "I have support from the Jiuquan Launch Center and I will apply for approval from Beijing Spaceflight City," Li said.
    Li claimed she was one of seven people chosen from Nanjing to participate in the construction of the China Sanjiang Space Group in the mountains of Xiaogan in Hubei Province. In 1968, she left her 6-month-old son with her mother and started her 20 years in the mountains.
    "There was no correspondence, no phone calls and the basic food was insufficient when we started to work there," she recalled.
    "Sometimes we were rationed with only one cabbage a week and the scene of people grabbing cabbages when a train load arrived became an unforgettable scene."
    Li returned home to Nanjing for first visit in 1981, 13 years later.
    "I waited for my son in the room. He came with three classmates. The first one came in, my mother shook her head, then the second and the third. She smiled and nodded when the fourth came in. That was my child I hadn't seen for 13 years," Li recalled.
    Li retired in 1988 at the age of 51 and started teaching embroidery at the Nanjing Deaf Children's School and later moved to teach at the Shenzhen Yuanping Special Education School in 1996. In the eight years there, she taught embroidery to more than 300 children. In her spare time, she often visited social welfare centers to teach children.
    "As a 70-year-old woman who has devoted my youth to China's aviation and spaceflight and experienced hardship in the early years, I feel proud of the achievements China has made. So I dream of building a spaceflight museum in Shenzhen to show the hardship and pride of China's spaceflight and hope more promising young people will join this great endeavour," Li said.
    Li is better known as a master of Suzhou embroidery.
    In her exhibition hall in Qiushuishan Park in Buji, Longgang District, she has hundreds of pieces she and her embroiderers made over the years.
    They include embroidery of the well-known painting "Riverside Scene at the Qingming Festival" which is 4.6 meters long and 0.66 meters high and was finished in 2000. It took six embroiderers a year to finish.
    "If necessary, I will auction this piece to raise money. With the signatures of China's space heroes Yang Liwei, Fei Junlong and Nie Haisheng, I believe it could sell for at least 2 million yuan," Li said.
    Born in 1937 before the Nanjing Massacre by Japanese invaders, Li began learning embroidery at the age of 7 from her grandmother in Shanghai, who once sewed the robes of emperors, their concubines and officials.
    When she started school, she realized she was 10 years old, two years older than the other children. At that time, she took a bold step.
    "As I was very sensitive to color through learning embroidery, I changed the year of my birth to 1939 in my family hukou with dark blue, replacing the original light blue. Then I copied all the words written in the hukou booklet. No one noticed the change even after the liberation and the founding of the People's Republic of China (PRC)."
    In 1950, at the age of 13, Li started learning embroidery with her mother using a machine. Her mother had been received by Premier Zhou Enlai.
    "Suzhou embroidery is precious as gifts for State guests, dignitaries and foreign friends and were in big demand after the founding of the PRC. Luckily enough, at 15, I was chosen to study for four years in the Soviet Union," she said.
    She returned to Nanjing in 1955 and ran an embroidery school until the "Cultural Revolution" erupted in 1966.
    If there had been no "Cultural Revolution," she might have continued with her embroidery. But, never too late to continue, she began teaching embroidery after she retired.
    The launch of Shenzhou V in October 2003 thrilled the whole nation including Li, who created a portrait of the hero, Yang Liwei, in needlework and then Fei Junlong and Nie Haisheng. Li gave the creations to the heroes as gifts.
    "Embroidery is just like painting. Your mind needs to be calm like water, otherwise you can't sew neat and beautiful pieces. It is a way to test your state of mind," she said.
    Among the 100 pieces she has kept, the figure portraits of 12 Beauties of Jinling in the "A Dream of Red Mansions" took her 12 years to complete. One of the portraits was sold to a Hong Kong businessman who presented it to a Fortune 500 enterprise in the United States as a gift. Some of her pieces have been collected by art museums in the United States and the United Kingdom.