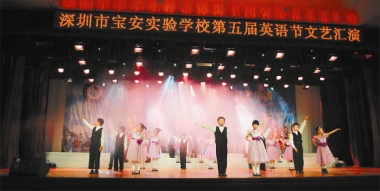 李雨晴 宝安实验学校五年级
    指导老师 钟小玲
    On December 30, the closing ceremony of the English Festival was held at Bao'an Experimental School. It was the fifth time Bao'an Experimental School has held such festival to raise interest and self-confidence for students to study English. The festival also aims to improve their all-around ability to apply English and motivate themselves to learn about society and the world.
    There were songs, interesting short dramatizations and touching tales. All the acts were good but the chorus "Bingo" performed by the first-graders left a profound impression on me. Little children performed singing and dancing. They were all cute!
    I was honored to be one of the hosts of the show. Although there was an air of nervousness at the very beginning, I was improving after overcoming my nervousness.
    One of the four most important annual festivals at Bao'an Experimental School, the English Festival has become a carnival in school life.