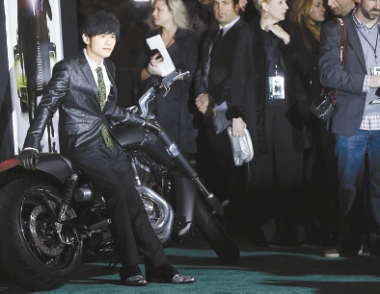 TAIWAN pop star Jay Chou makes his English-language acting debut in "The Green Hornet," based on characters that appeared in a U.S. 1930s radio serial, a 1960s TV show and a comic book series.
    U.S. comedian Seth Rogen also stars in the 3D, action comedy. Rogen, who co-wrote the movie that debuts in U.S. theaters Friday and Shenzhen cinema Feb. 6, stars as Britt Reid, a slacker son of a media magnate who dies mysteriously. Britt befriends his dad's employee, Kato (Chou), and the duo reinvent themselves as crime fighters with Britt becoming the Green Hornet and Kato his sidekick. At the same time, they both have eyes for their new secretary, Lenore Case (Cameron Diaz).
    Asian media say Chou's portraying of Kato could turn him from Asian superstar to world star. Both Rogen and Michel Gondry, director of "The Green Hornet," spoke glowingly of Chou.
    "The way Seth described Jay is he's like the Steve McQueen of Asia so basically every little space he had, every expression, he made it as cool as possible. He's a big star, a musician as well in Asia so he has a lot of charisma," said Gondry.
    "When we met Jay, it was our chemistry that really made it seem like it would work. He's exponentially more famous and successful than I will ever be. And the idea that in the movie he's my sidekick, that instantly felt wrong and that was exactly what we needed. We needed to show that when you see the two of us, it's clear that he should be the guy in charge and not me," said Rogen.
    Michel added: "It was difficult for an actor to take on this part because of Bruce Lee's legacy, especially for Asian actors — they don't want to ruin it and to be compared. Jay wanted to have a completely different take. He didn't want anyone to think he was trying to imitate Bruce Lee."
    Asked how he dealt with the white boss-Asian sidekick stereotype issue, Rogen said: "A big part of where we got this idea for the movie was because of how outdated that relationship was. There was never any acknowledgment that Kato was the one who did most of the stuff. The Green Hornet got most of the credit. We had to acknowledge all these things that most people don't even realize — what a disadvantage Kato's character is being put in from a literary standpoint. So we really had to update all that. The whole point of the movie is that we deserve equal credit."
    (SD-Agencies)