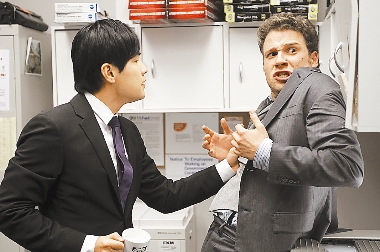 THIS week, Seth Rogen and Jay Chou discussed with Reuters about Chou's command of English and Rogen's singing voice. 
    Q: How did you two meet?
    Rogen: "We met over Skype, like most people do these days. In looking for a Kato, we got a hold of Jay and set up a time to read one of the scenes over Skype. He was in Taiwan and I was in Los Angeles. We read the scene where we're arguing with each other in my guest house."
    Q: If there's a sequel, what would you like to see in it?
    Chou: "Cameron Diaz. More romance for Kato."
    Q: Ah yes, Kato has that one scene where he tries to get close to Lenore. She appears to like him a bit.
    Chou: "It's my favorite scene in the movie!"
    Q: Jay does most of the driving in the film. Is that because your driving skills are poor?
    Rogen: "I did one day of stunt driving training and I must have not done very well because I didn't get to drive a car again after that. But Jay was a great driver. There were lots of scenes where he was driving with a camera mounted on the hood. They would just send us off to drive around like that. We got some weird looks from people."
    Chou: "For me, the challenge was fighting with Seth. To me, he's like my brother and because of that, fighting with him was very strange. I didn't want to kick him, but I had to."
    Q: What did you take away or learn from each other that you wouldn't have otherwise?
    Chou: "Seth is exactly like what he is on the screen, except he's not dumb."
    Rogen: "Good answer! I've been listening to a lot of his music. There's a song of his at the end of the movie and it's awesome."
    Chou: "Music is very important in my life. After this movie, I'm going to back to my music and will make a new album."
    Q: Any duets with Seth?
    Rogen: "That would not be a good idea."
    Chou: "He's a good rapper, but not a good singer." (SD-Agencies)