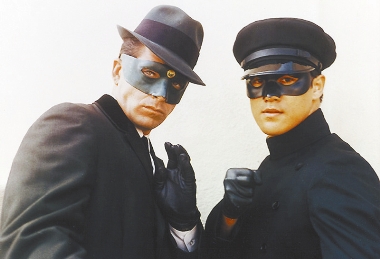 THE Green Hornet is a fictional character — an American pulp hero and masked vigilante — created by George W. Trendle and Fran Striker with input by radio director James Jewell in 1936.
    Since his radio debut in the 1930s, the Green Hornet has appeared in numerous serialized dramas in a wide variety of media. The character appeared in film serials in the 1940s, a network television program in the 1960s and multiple comic book series from the 1940s on. Though various incarnations sometimes change details, in most incarnations the Green Hornet is Britt Reid, a newspaper publisher by day who goes out in his masked "Green Hornet" identity at night to fight crime as a vigilante. He is accompanied by his similarly masked sidekick and confidante Kato, who drives their technologically advanced car: "Black Beauty."
    The 1940 movie serial starred Gordon Jones as the Green Hornet and Warren Hull replaced Jones in this role in the 1941 movie serial. In the two serials, Kato was played by Guangzhou-born Chinese-American actor Keye Luke.
    In the movie serials, Kato is Korean rather than the original Japanese nationality of the character due to anti-Japanese sentiment rising at the time. This was two years prior to the Dec. 7, 1941 attack on Pearl Harbor and the United States' entry into the war. The radio version dropped the nationality from the introductory sequence, included passing references to him being Filipino in dialogue, and only years later added that to the standard intro.
    For the 1966-1967 TV season, Van Williams starred as the Green Hornet/Britt Reid, with Bruce Lee as Kato. Lee also played Kato in three crossover episodes of "Batman" in 1966.
    Seth Rogen said in a recent interview that his best memory of any The Green Hornet incarnation was the TV show with Bruce Lee. "That's what piqued my interest," Rogen said.
    "From my experience, I think that's what most people picture as being the Green Hornet. Most Green Hornet fans were followers of the Bruce Lee TV show, mostly because Bruce is so awesome."(SD-Agencies)