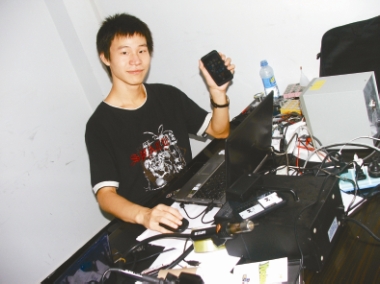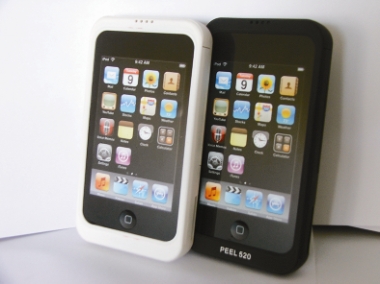 Wang Yuanyuan
    AN Apple iPod Touch case, which is called Apple Peel 520, has become popular on the Internet because the magical case can turn a cheap iPod Touch into an expensive iPhone. However, few people know that this magical gadget was invented by a young man in Shenzhen.
    He is Pan Yong, 22, native of Henan Province who came to Shenzhen a year ago after graduating from a polytechnic in Henan.
    Apple Peel 520, jointly developed by Pan and his brother Pan Lei, 26, is a third-party device that adds voice and text messaging capabilities to an iPod Touch. It acts as a protective layer that slips over the iPod Touch case and includes a battery, dock connector and SIM card. Once the appropriate software is installed, the peel adds the capability to make voice calls and text messages using any version of an iPod Touch, according to an introduction on the product from Go Solar Inc. in the United States.
    "It is one of the proudest things we've ever done because the whole thing is our idea and our work," Pan Yong said.
    Hard road to success
    Pan first hit on the idea in 2008 when he was still a software student at the polytechnic.
    "I am a big fan of Apple products, but I could not afford many of them because they were too expensive, so I bought an iPod Touch instead in 2008," he said.
    After using the iPod Touch for a while, Pan thought it was a pity that the gadget was still not his dream iPhone. "I thought it was a real pity because they had almost the same functions except that iPod Touch could not make a telephone call. So I thought, why not do something to make it a phone," he said.
    With the idea and a passionate interest in computer technology, Pan started making his gadget in 2009 shortly after he arrived in Shiyan in Bao'an District. His idea was fully supported by his brother, who worked in Shenzhen as an interior designer. The brothers started working on the project together.
    "I thought it would be better to make it into a case, so users would not be inconvenienced when using it to make phone calls," he said.
    But developing a new IT product was no easy job, particularly for a young graduate who was familiar only with software. "I encountered a lot of difficulties in development because I knew nothing about hardware, such as theory and circuit diagrams and things like that. So I gleaned a lot of information from textbooks and the Internet and asked for help from hardware professionals and finally became a self-taught hardware professional myself," he said.
    Every day Pan remained in his room testing his product, while his brother provided ideas and ran all over Shenzhen to find all kinds of material for the tests. "I could not remember how many tests I'd done in total. Anyway it was over and over again, every day," he said.
    Often he fell asleep in his chair while working and woke up in the early morning. "It was as if I lived in my chair. Forgetting to have meals was not a new thing for us," he said.
    Continuing to work hard, Pan produced his first case in April 2010 and he was on top of the world. 
    Video promotion
    The brothers posted a video on Tudou.com, one of the country's biggest video Web sites, in July to promote the product. To their surprise, the video attracted more than 200,000 clicks in less than a week and has been a hot topic for discussion by netizens and media all over the Internet.
    "We were very proud that our inventions were so well-received and we felt the product could be a million- business in the future," he said.
    The magic of the Apple Peel is that people can buy an iPod Touch for about 1,000 yuan (US$151) and use it like a 5,000-yuan iPhone with the 599-yuan device. "There are about 275 million iPod-support products on the market at the moment and our product can turn them all into a cell phone, so people who cannot afford an iPhone don't have to carry so many things when they go out," Pan said.
    Many companies sought to cooperate with the brothers after watching the video. They included an American IT company, Go Solar. "They planned to sell it in America for about US$60 because they had strong faith in our invention and even gave it the name Apple Peel 520," Pan said.
    The company was helping them apply for patents in the United States so it could soon be sold there legally, the company told a British newspaper in August.
    Pan is now negotiating with several companies to promote the product in China and around the world, but he refused to identify the potential partners.
    The Peel started selling on their Web site in September for 599 yuan.
    Worries surround brothers
    Not long after the Peel started selling, many imitations appeared on the market and the Internet.
    "If you search for similar products on Taobao.com, you can find more than 20. I did not expect the power of imitation in China was that big," Pan said.
    However, he was not that worried because most of them were made by small companies and he was quite confident about the quality and technology of his product.
    The real fear was of domestic IT giants. "ZTE now has a similar product called ZTE Peel, which provides only a wifi function on the iPod Touch. But it will be a big competitor if they improve their product in the future. Compared with us, they have much bigger market and distribution channels to promote their products," Pan said.
    Another worry was about infringement of copyright. "Many iPod Touch users are afraid to use our product because we don't have approval from Apple Inc. yet. In other words, we are also 'copycat software,'" he said.
    "We hope to cooperate with Apple Inc., distributing our products together and sharing the profit. But we do not know much about law, marketing or business. I hope to focus on developing and improving my product, that's why we are looking for partners to help us with the marketing," Pan said.
    Future hopes
    Despite all the trouble and worries, Pan remains optimistic about his product and continues working to make it better.
    "I think all other things are not that important because all I am thinking about is to make it a much better product with improved functions and better qualities so it can be accepted and highly regarded by users," he said.
    "I am more of a technological person than a businessman. I like exploring and developing new technology and new products," he said.
    Pan does not have many plans for the future. "I hope to focus on product development, particularly on creative products. I hope I can develop more creative IT gadgets in the future, bringing more ideas and surprising the public," he said.