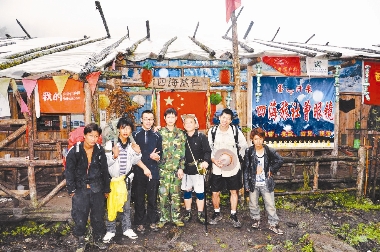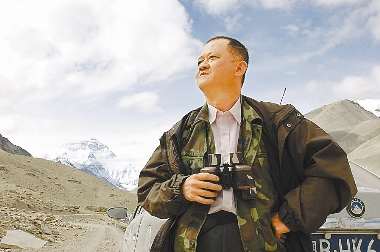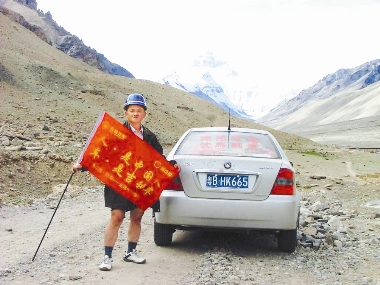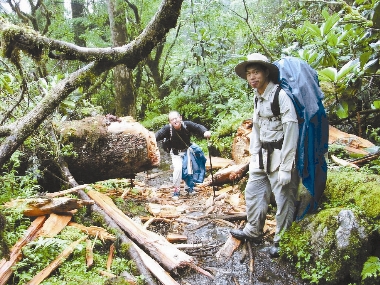 Tina Chen    
    A MAN completed an amazing feat by reaching Mt. Qomolangma Base Camp, 5,217 meters above sea level, in a small family car in August 2005.    
    His 1.6-liter-engine Geely car became the first and the last small family car to reach the base camp. Vehicles are now forbidden within 30 kilometers of the camp.    
    The daredevil explorer was Zhang Luyang, 57, an employee of China Merchants Port Service (Shenzhen) Co.    
    Nicknamed "Universe Man," Zhang aspired to venture to all dangerous places in the country.    
    "I always choose to travel alone and my adventures are what others don't dare to do," Zhang said.    
    A second spring    
    Zhang decided to embark on outdoor exploration when he was 50.    
    "I thought the age of 50 was when men should learn to give up their desires," said Zhang. "People no longer needed to make painstaking efforts at this age. Instead, it is the time for the second spring of your life."    
    Zhang is a Shandong native and had been a prison warder in his hometown the same as his father and grandfather.    
    He resigned and came to Shenzhen in 1982 when it had just been designated a special economic zone.    
    A maintenance worker for years, he used all his savings to buy a Geely family car.    
    "I wanted to do something challenging unlike those people dancing and singing in parks," said Zhang.    
    He departed Shenzhen alone and drove to Nanning, Guizhou, Kunming and then Tibet. He traveled over four snowy mountains more than 5,000 meters above sea level.    
    He also drove through the many dangerous bends on the Sichuan-Tibet Road. A mistake could have left him there forever as he drove at altitudes above 4,800 meters for many days.    
    The Sichuan-Tibet Road was under construction at that time and he had to drive over sandstone roads, mud and through gullies.     Zhang escaped death several times and once almost fell off a cliff. On some roads, his small car was at a 45-degree angle to the horizon.
    After driving 5,500 km in two weeks, Zhang finally arrived at Mt. Qomolangma Base Camp.    
    A Mt. Qomolangma tourism authority official said he couldn't believe it was a small family car because only SUVs had reached the base camp before.    
    Daredevil explorer    
    Without special equipment, Zhang had driven his car through what was then the dangerous Qinghai-Tibet Highway, Tarim Basin in Xinjiang, Taklamakan Desert, the largest desert in China, and Pamir Plateau between 2003 and 2005.    
    In 2010, he rode a bicycle 10,255 km through Qinghai, Xinjiang, Tibet, Yunnan and Guangxi.    
    He crossed the Korla Desert in four days, and then Qaidam Basin, the Xinjiang-Tibet Road — which is called the road of death — and Chawalong virgin forest in Zayu County in Tibet and several no-man's-lands.    
    Being alone meant there was no backup supplies, support or rescue if anything happened.    
    But Zhang said he loved the solitary life.    
    "Make adequate preparations and then let the gods rule" was his maxim.    
    "The most difficult places to go are where you can prove your wisdom and capabilities," he said.    
    Once in a mountainous area in Sichuan Province, Zhang's car rolled into a gully and Zhang was knocked unconscious.    
    When he recovered he found himself above the Yarlung Zangbo River and there was nobody to help. He spent several hours using a hoe to make a path for his car to go up to reach the road. All the while he was bleeding from a head wound.    
    Doctors later inserted eight stitches in the wound but the first thing he did after being treated was to take a picture with his crashed car instead of having a rest.    
    "I wanted to behave differently," said Zhang. "I was not afraid of being knocked out."    
    He has his own way to handle his adventures. In the highlands, he did the opposite of doctors' instructions.    
    "Each time I crossed a snowy mountain, I drank strong spirits and I was always strong," he said. "My heartbeat remained normal when I climbed a mountain in Metog County in Tibet and I was in very good condition."    
    Anybody can go exploring    
    Zhang said he spent no more than 1,000 yuan (US$152) per trip on food and accommodation. He never stayed in hotels and ate prepared food. So it cost about 3 yuan per day.    
    "I am not rich and last time I had to sell several bottles of my old wines to cover travel expenses," said Zhang.    
    "I don't agree with people who complain they don't have time or money to go exploring."     
    "The exploring starts by solving the most practical problems such as time and money before you hit the road," he said.    
    Zhang said his adventures had changed him a lot.    
    "I couldn't help reflecting when I was alone in virgin forest," he said. "I felt a human is so insignificantly small and there was no reason to be unhappy."    
    "Every time I returned from a trip, I felt my life was brand-new and everything was so lovely."    
    "I have become good-tempered and no longer shout at cars that cut in."    
    Zhang said he would complete his dream of exploring the whole of China after he makes it to Lop Nor in Xinjiang, also called the Sea of Death. This will be his final journey of exploration.