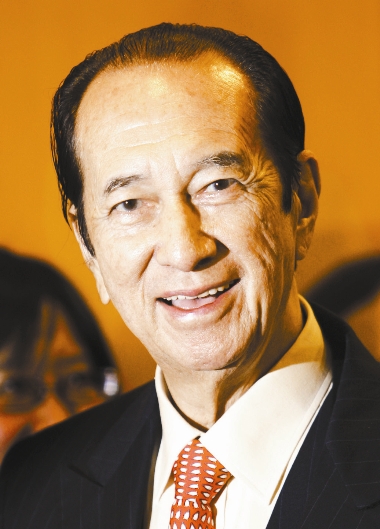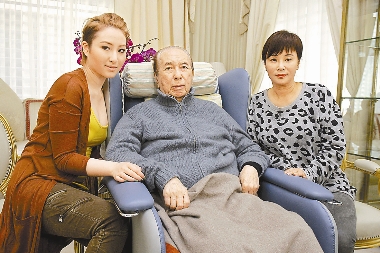 A LAW firm that says it represents ailing Macao casino baron Stanley Ho is taking some of his wives and children to court, saying they improperly seized his stake in his Macao gambling empire.
    The latest twist involving Ho, who turned the former Portuguese colony of Macao into Asia's gambling capital, comes a day after he appeared to backtrack on previous claims that his relatives had "robbed" him of his flagship company.
    Law firm Oldham Li and Nie released a statement through a public relations firm Thursday saying it had filed a writ of summons in Hong Kong's High Court.
    It said that shares were improperly issued to benefit Ho's second and third wives and their families. Ho has 16 living children by four women he calls his wives. Lawyer Gordon Oldham said Ho had intended to divide his assets equally among his families.
    The controversy erupted after casino operator Sociedade de Jogos de Macau Holdings, known as SJM, told the Hong Kong stock exchange Monday that Ho had given nearly all his shares to five of his children and one of his wives.
    Oldham said the billionaire disputed the share transfer and was vowing legal action while the family members released a flurry of statements and documents that they said proved he had agreed to it.
    The issue seemed to be resolved Wednesday when the 89-year-old read out a statement on local television saying the "big issues have been settled." He also said he no longer needed the services of Oldham, who later released a statement saying he was still representing Ho following a meeting with him.
    Oldham's firm said Thursday it was seeking to restrain Ho's third wife and three of Ho's daughters by his second wife from selling or disposing of the shares.
    Ho had surgery in 2009 for unspecified reasons and spent seven months in hospital before being discharged in March. Local media reported that he underwent brain surgery after hitting his head. He has rarely appeared in public since.
    On Wednesday, Ho spoke at a family residence to television station TVB, saying the controversy over his assets had made him and his family unhappy.
    "The statement from last night has already taken effect and won't change," Ho said, referring to a statement which stated his desire to resolve the matter with his family privately and that he had in fact authorized the asset transfers which effectively whittled down his assets to nothing.
    "For the past 10 years I have very much loved my family and I have never had to take any action of you suing me, and me suing you," he said during the interview.
    Shares in Ho's SJM Holdings had earlier dived Wednesday on fears that a family feud between the billionaire chairman and some of his children would affect succession plans at Macao's largest casino operator.
    On Tuesday, Oldham quoted Ho as accusing members of his family of stealing shares in his business empire, leaving him with a highly diluted stake. Ho later backtracked from his claims, saying the dispute was the result of a "misunderstanding" he wanted to sort out in private.
    The colorful Ho has had 17 children with four women.
    Ho's first wife, Clementina Leitao, came from a prestigious family in Portugal and was known as the "greatest beauty in Macao."
    Ho fell in love at first sight with Leitao and they were married in 1942. The couple had four children — Robert, Jane, Angela and Deborah. Leitao's health deteriorated in the 1970s. She was dealt another blow when Robert and his wife died in a car accident in 1981.
    Leitao then required round-the-clock nursing care and was served by Ina Chan Un Chan, who became Ho's third wife. Leitao died in 2004.
    In the late 1950s, Ho developed a relationship with Lucina Laam King-ying. They were legally married in 1962 in Hong Kong, which didn't ban polygamy until 1971.
    Laam's children went on to join the tycoon's businesses. Pansy, Daisy and Maisy hold senior positions with Sociedade de Turismo e Diversoes de Macau (STDM), Shun Tak Holdings and MGM Macau, and Lawrence is Melco International Development chairman. Josie is an actress.
    Ina Chan, wife No.3, met the magnate when she was hired to take care of Leitao. She had three children.
    Angela Leong On-kei, who has been regarded as Ho's fourth wife since the late 1990s, was born in Guangzhou and was a dancer in a troupe. She met Ho in 1988 when they danced together at a private ball. She gave birth to five children.(SD-Agencies)