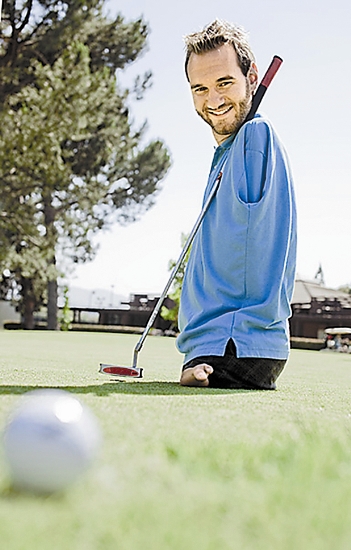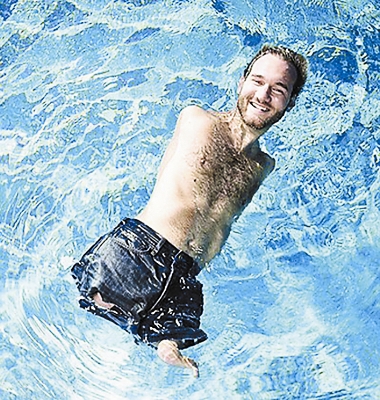 Li Hao
    HE has traveled to more than 24 countries to give speeches to at least 3 million people on subjects such as disability, hope, and finding a meaning in life.
    He holds bachelor's degrees in accounting and financial planning.
    He is the founder of a nonprofit organization that encourages people not to give up hope.
    And he is limbless, missing both arms and legs but with two small feet. He is Nick Vujicic, a 29-year-old Australian speaker who has inspired millions of people.
    In 2005, Vujicic was nominated for the "Young Australian of the Year" Award.
    Childhood struggle
    The first child of a Serbian family, Vujicic was born in Brisbane, Australia.
    Suffering the rare physical disability and depression, Vujicic first attempted suicide at the age of 10.
    "I tried to drown myself in four inches of water. I was tired and lonely, I felt there was no hope," Vujicic said in a speech in Shenzhen in December last year.
    "However, I decided...I didn't want to hurt my family, who love me so much," he said.
    The boy then started challenging his physical disability by learning how to do things. He learned to write using the two toes on his left foot, and a special device that slides onto his big toe helping him to grip. He also learned to use a computer, throw tennis balls, play drum pedals, comb his hair, brush his teeth, answer the phone, shave and get himself a glass of water.
    'I was meant to
    be a speaker'
    "I felt nervous when I spoke to around 300 people to share my life experience at the age of 19. I didn't know how to do it at the beginning," Vujicic recalled in his Shenzhen speech.
    "However, about three minutes after the start of my speech, half the audience was crying. A girl put up her hand and asked to hug me, saying 'thank you,'" he said.
    The girl's positive response gave Vujicic "great satisfaction."
    "You can give clothes, houses, medicine, but not everyone can heal people's hearts," he said.
    Excited, Vujicic told his parents: "I want to be a speaker."
    In the kitchen, Vujicic's mother crossed her arms and said: "A speaker? Speak about what?"
    "I don't know," the boy answered.
    Vujicic's father suggested he should complete his school education first.
    "Although there were many questions, I knew I was meant to be a speaker," Vujicic said.
    Vujicic described his efforts to contact schools to engage in public speaking as "a chance to learn marketing."
    "I called a local school, nervously introducing myself and asked: 'May I speak in your school?'" Vujicic said.
    When they refused, he tried another school instead of giving up.
    Vujicic finally received a "yes" when he called the 53rd school, which offered him US$50 for a five-minute speech.
    The excited Vujicic paid his brother US$50 to drive him to the school where he spoke to an audience of only 10.
    Vujicic received an invitation to speak at another school the day after his first speech with an offer to pay for his transport.
    "Let me check my schedule," said Vujicic, not wanting to show his excitement.
    "Take one step a time. When you fall, pluck up the courage to get up, and build your confidence," Vujicic said in Shenzhen.
    "Treat your weakness or obstacles as opportunities to make progress," he said.
    Vujicic established his own nonprofit organization, Life Without Limbs, at the age of 17.
    Motivational speaker
    Graduating from university at the age of 21 with a double major in accounting and financial planning, Vujicic began his travels as a motivational speaker, focusing on the challenges that today's teenagers face.
    Vujicic shares interesting experiences to present a strong, positive attitude toward life.
    "Once I was on a flight, I put myself in an overhead [luggage] locker and closed it. When someone opened it, I wowed," Vujicic said in Shenzhen.
    During the Shenzhen speech, Vujicic gave a close-up view of his body on two big screens in a hall at the Civic Center.
    "Love yourself the way you are. I don't need arms, I need peace, love and joy, that's what makes me happy," he said.
    "All things are possible if you try. Give yourself a chance, give your hopes a chance and don't give up," he said.
    "Once a child asked me what caused my disability, I told him 'cigarettes,' I think that was an effective way to encourage children not to smoke," laughed Vujicic.
    "Four years ago, I met a child like me and my experience became a miracle for him," Vujicic said.
    "You don't have to be a CEO or be on stage to become a leader. Do the right things to lead others," he said.
    "I'd like to be remembered as a man of love and integrity, positivity and self-control," Vujicic said.