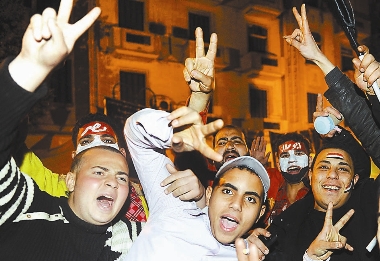 One Egyptian kissed the ground. Another rolled in ecstasy in the grass outside a presidential palace. People wept, jumped, screamed and hugged each other with a shared joy they had never known. Cairo erupted in a cacophony of celebration: fireworks and car horns and gunshots in the air.
    President Hosni Mubarak resigned and handed power to the military on Friday, and Egypt held its biggest party in decades.
    "The people have toppled the regime," chanted protesters, whose 18 days of swelling protests tipped Egypt into a crisis that the autocratic government could not undo.
    "This is the happiest day in my generation," said Ali al-Tayab, a demonstrator who paid tribute to those who died in clashes with police and Mubarak supporters. "To the martyrs, this is your day."
    At a presidential palace in Cairo, where demonstrators had gathered in the thousands, people flashed the V-for-victory sign and shouted, "Be happy, Egyptians, today is a feast" and "He stepped down."
    They handed out candy. Many prayed and declared: "God is great."
    Crowds packed Tahrir Square, the scene of massive protests against Mubarak that began on January 25.
    "Egypt is free," shouted Mahmoud Elhetta, a protest organizer. "We are a great people and we did something great. This is the expected end for every dictator."
    Some, though, warned that Egypt still faced many challenges, including what they hope will be a peaceful transition to free elections and a full democracy.
    "We still have a long way to go to fix things," said protester Hala Abdel-Razek. "What has been ruined by the Mubarak regime has to be fixed and we have to start rebuilding with the help of the young people."
    A speaker on a podium said demonstrators would not immediately abandon the square because: "There is more to do."
    On Thursday, an exultant crowd gathered in the square for what they expected would be the president's televised announcement that he would resign. Instead they were shocked to hear him say he would transfer power to his deputy, but keep the title. Angry and disappointed, thousands of protesters fanned out across the city on Friday.
    Vice President Omar Suleiman then announced that his boss had resigned.
    In Tahrir Square, protesters heard the announcement on mobile telephone radios that they passed back and forth. They broke into cheers, then lifted soldiers stationed there onto their shoulders. Some formed a conga line, winding through the packed area.
    "Goodbye, Goodbye," demonstrators shouted. They beat drums and waved national flags.
    "Finally, we are free," said 60-year-old Safwan Abou Stat. "From now on, anyone who is going to rule will know that these people are great."
    In some neighborhoods, women on balconies ululated with the joyous tongue-trilling used to mark weddings and births. Others sang the national anthem.
    State television, a bastion of support for the Mubarak regime, began reporting the celebrations across the nation. It was a big change for state television, which had spent most of the last days of the uprising trying to portray the demonstrators as a minority.
    Mubarak's departure, said the station's reporter outside his Cairo palace, "showed that the Egyptians are capable of making their own history. They are able to move the water that has been still for 30 years."
    "At this moment, Egyptians are breathing freedom," said the TV presenter. (SD-Agencies)